7 Hendrickson Avenue
Red Bank, NJ 07701


Phone:
732-704-1322
Toll-Free:
800-224-3170
Fax:
732-741-5704
Email:
info@exhibitsurveys.com
Web:
www.exhibitsurveys.com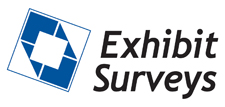 Company Description
Exhibit Surveys, Inc. (ESI) measures the success of company event marketing programs through qualitative and quantitative research/surveys and provides consulting to implement positive changes. ESI's analysis, insights and benchmarks provide marketers with critical information needed to run an effective program that delivers results.

Send a Quick Message

Follow Exhibit Surveys, Inc. on...

In the News

Customer Testimonials
"Responsive, customer-focused, yet thoroughly objective, Exhibit Surveys Inc. provides valuable, authentic metrics and industry comparisons along with recommendations for improving your face-to-face marketing efforts."
Diane Benson
Manager, Conventions
GE Healthcare
Medical Diagnostics

"Working with Exhibit Surveys, I am able to gather consistent, relevant data that allows me to develop benchmarks, make show selection decisions, identify strengths and weaknesses in my program and improve the events/trade shows I manage on behalf of HP's trade show and events program."
Glenda Brungardt, CTSM
Trade Show/Event Manager
HP Imaging and Printing Americas Marketing

"Events are one of our most important marketing channels and it's all about driving business impact. ESI provides us with the data that demonstrates strong ROI and validates our future directions and success metrics."
Kathy Doyle
Director, Global Event Marketing
Cisco

Products and Services

Company Catalogs/Literature

As seen at EXHIBITORLIVE 2016
See us at EXHIBITORLIVE 2017, Mar. 13 - 15, booth #1341