1365 W. Auto Dr.
Tempe, AZ 85284


Phone:
480-966-9873
Toll-Free:
800-709-6935
Fax:
480-966-9841
Email:
info@ExhibitsUSA.com
Web:
www.ExhibitsUSA.com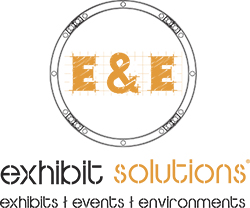 Company Description
Founded in 1995, E&E Exhibit Solutions is a trade show display company specializing in custom modular displays, custom portable exhibits, trade show graphics and booth rentals. E&E has a long-standing record of success serving more than 2450 clients in 48 U.S. states and 17 countries and is recognized as a five-time Inc. 5000 honoree.
As expert trade show professionals, our award-winning solutions include custom displays, exhibit rentals, trade show graphics, shipping, installation and exhibit storage.

Send a Quick Message

Follow E&E Exhibit Solutions on...

In the News
E&E Exhibit Solutions Celebrates Two Decades in the Trade Show Display Industry
     Tempe, AZ (June 6, 2016) -- E&E Exhibit Solutions, an award winning leader in trade show exhibit graphics and displays and five time recipient of the INC 5,000 award for fastest growing business is celebrating over twenty years in business. Based in Arizona, E&E Exhibit Solutions has grown to support businesses in all trade show-relevant states as well as fifteen countries ...

Revolutionary Advances in Trade Show Booth Design with EuroFrame
E&E Exhibit Solutions offers Oversized Seamless Options for Exhibit Displays        (Tempe, AZ) February 16, 2016 – E&E Exhibit Solutions just announced the re-engineered EuroFrame trade show exhibit designs. The NEW Silicon Edge groves ...

E&E Exhibit Solutions Expands to Third Building Trade Show Exhibit Specialist Adds New ...
(Tempe, AZ) September 24, 2014 – Business growth continues for Tempe-based business, E&E Exhibit Solutions. Opening in October, E&E has secured a third building, this one located in Chandler, AZ, to service the growing trade show rental division requirements. Located at 3215 N. Nevada Street, this additional building not only offers rental and production space but also provides new job opportunities for local professionals. "Over the past almost ...

New Rental Trade Show Exhibits Website Launched
Mobile-Friendly Booth Exhibit Website from E&E Exhibit Solutions (Tempe, AZ) July 30, 2014 – The trade show industry continues to grow and businesses benefit from the opportunity to market to thousands of potential customers during a concentrated time frame. The number one key to success is the trade show booth display which can be an enormous investment, especially for companies just starting out on the trade show ...

E&E Exhibit Solutions Receives the 2013 Arizona Excellence Award
E&E Exhibit Solutions Receives the 2013 Arizona Excellence Award(Tempe, AZ) E&E Exhibit Solutions has been selected for the 2013 Arizona Excellence Award amongst all its peers and competitors by the Small Business Institute for Excellence in Commerce (SBIEC).      Each year the SBIEC conducts business surveys and industry research to identify companies that have achieved ...


Customer Testimonials
"We signed several major customers and received very positive feedback on the product and the booth. We had several comments that ours was the best booth at the show!"
Jarrett Harnstreet COO
Post Bid Ship

"Thank you for everything you guys did to make our Emerge conference successful and beautiful this year! We truly appreciate all of your hard work and dedication to the corporate event. Thank you so much!"
Ryan Sedlacek
Marketing Manager, Consolidated Graphics

"Thanks to the team at E&E for the fine job you did on our booth at the RECON show this past week! Your ability to design the booth via Live Meeting, with the participation of our principals, was key! And, the booth turned out exactly as it appeared in your renderings - no surprises! During the show, we talked to several other exhibitors about booths, costs. Those discussions reinfoced what we already knew, E&E provides a great product at a great price! Thank you again."
Kirk Ballard
Director of Marketing, HKS Management

Products and Services



Exhibit Producers









Fabric Architecture







Exhibit & Event Products
Frames and Displays





Exhibit & Event Products
Graphics - Large Format







Rental







Company Video

Company Catalogs/Literature

As seen at EXHIBITORLIVE 2016
See us at EXHIBITORLIVE 2017, Mar. 13 - 15, booth #1537