377 Laidley St. Suite A
San Francisco, CA 94131


Phone:
415-333-0765
Fax:
415-333-0775
Email:
ken@magnetproductions.com
Web:
www.tradeshowpresenter.net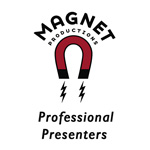 Company Description
Magnet Productions creates excitement in your trade show booth. We've been producing live trade show presentations since 1985. Our professional presenters use magic, juggling, escape artistry, improv, or just plain speaking skill to communicate your message and keep your booth packed with people. We guarantee crowds and qualified leads. And, as an added bonus, you just might find that your next trade show is a lot more fun.

Send a Quick Message

Follow Magnet Productions on...

In the News
Capture Every Lead on The Trade Show Floor – Automatically!
"HEY.  Tired of going back to your office with only 400 leads from your last trade show? Are you looking to REALLY impress your Sales Team.  How about 4,000? How about 40,000?! That's right, the SCAN-EM-ALL 685 is the answer to your prayers! Just find the center of the trade show floor.  Hold the Scan-Em-All … Continue reading

Wage PEACE at Your Next Trade Show
The Volume Wars The situation: Day One of the Trade Show.  Your neighbor's first presentation of the morning begins.  And …. it's loud.  VERY loud. You wince. You grimace.  You launch the Noise Meter app on your iPhone. 110dB and rising fast. The sales reps in your booth can't have a conversation.  Their temperature is rising … Continue reading ...

Ken Newman is Guest Blogging (Again) for Nimlok
I'm pleased to report that I am once again guest blogging for Nimlok, a trade show display solutions company.  You can also find them here: This month's entry is:  "Ending Death by Powerpoint"  It's about why Powerpoint can be the LEAST effective way to tell your story at a trade show.  It offers up some GREAT alternative technologies, and … Continue reading

Ken Newman is Guest Blogging for Nimlok…
I'm proud to say that I have been asked to do some guest blogging for Nimlok, a trade show display solutions company.  You can also find them here: This month's entry is:  "Beat Up Your Booth."  It's about taking a cold, hard look at your current booth, with an eye towards making it better.  A LOT … Continue reading "Ken Newman is Guest ...

Rethinking Trade Show Swag
I ran into a guy at an airport recently who was hauling two large company-branded shopping bags.  It was clear that he was on his way home from a trade show. Well … it was made even clearer by the fact that he was still wearing his Attendee badge. "Pretty good score, huh?" "Yeah, lotta … Continue reading "Rethinking Trade Show Swag"


Company Video

Customer Testimonials
"I've used Magnet to support tradeshow activities at 3 different companies, & I've always been thrilled with the results. Ken understands the objective (getting crowds/leads), is very creative, and has the experience to know what works."

"Magnet Productions worked with my company to help drive traffic to our booth and ensure we not only branded ourselves in the minds of attendees, but also educated them around our product offerings in a fun & engaging way. His crew is very professional and amazingly talented."

"Ken defies classification. He has a unique combination of skills that enables him to internalize highly technical value propositions and communicate them in ways that entertain, inform, and delight. Ken has the rare ability to transform arcane technical capabilities into accessible benefits and to rise above the noise in sensory-overloaded environments like trade shows. His cadre of skilled professionals reflect his talents & commitment to excellence."