THURSDAY 3:00 PM - 4:30 PM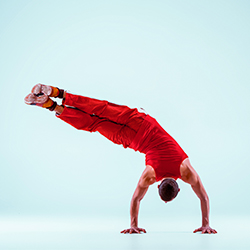 Track:
Planning & Execution
NEW!
R249
Irresistible Engagement: Clown Techniques for a More Effective Booth Staff
Limited to 20 registrants.
Don't be the booth company with the empty booth! In this experiential, on-your-feet session, you'll participate in engagement exercises led by a seasoned trade show presenter and Cirque du Soleil clown. Return home with techniques to efficiently develop a rapport with trade show attendees that you can share with your staff that. You will:
• Discover how a little vulnerability can help your staff supercharge lead generation
• Learn to transform awkward moments during demos into huge opportunities
• Learn how to create a safe environment where your staff can move past their comfort zones and excel in the booth
• Take away a four-step process to re-engage an email-checking audience
FACULTY:

Don Colliver

Don Colliver is a seasoned trade show presenter and owner of "Cirque To Work: Clown Techniques for Next Level Engagement." Don has worked with companies including IBM, Nike, Novo Nordisk, HGTV, General Motors, Starbucks and HP. In addition, thanks to his performance background with world class entertainment companies including Cirque du Soleil, Second City and Blue Man Group, Don also brings a true artist's point of view, but always with the bottom line in mind.


Connect with Don Colliver: