TUESDAY 8:00 AM - 9:30 AM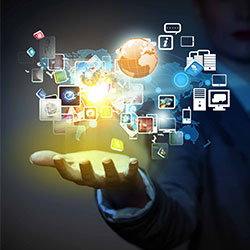 Track:
Marketing & Sales
T301
Message and Media - An Overview of Presentation Delivery and Technology
Current technologies used in presentations provide dizzying options for exhibitors to deliver impactful content that drives action. How do you sort through the choices to produce highly effective content presented via the right medium? In this how-to session, we'll share how to make the right decisions by covering:
• How to choose what type of presentation to create
• What technologies are available to maximize message delivery
• Which technologies work best in specific situations
• How to couple technology to message discipline
• The proper hierarchy of visual and verbal engagement
• How to deliver exactly the right messages in the best possible way
FACULTY:


Todd Simon

Todd has designed and implemented highly effective sales and marketing presentations for all position levels including senior executives in companies such as 3M, IBM, BellSouth, Nortel, Allied Signal, Rocktenn, MC2, and Freeman for over 28 years. His extensive knowledge of Customer Experience Management (CEM), Digital Asset Management (DAM), and Sales Presentation Effectiveness Measurement allows him to tailor these sophisticated techniques to any sales and presentation challenge.


Connect with Todd Simon:


Additional sessions presented by Todd Simon:

S403
Build a Better RFP
M450
Win More Business Responding to RFPs the Way Clients Want
T350
Focus on Attention: Maximize your Messages in Today's Media Cloud