trending
Company News
Kaon Interactive and GE Healthcare Take 1st Place at DxMA Global Marketing Summit

Company News
Fixation Marketing Wins 'Best Online Ad' Award for Client BIO

New Products
Post-Up Stand Expands Printing Capabilities on Metal and Wood

Company News
The National Conference Center Recommends Ten Top Apps For Event Planners

People
The EDPA Foundation's Annual Student Scholarship Program Now Accepting 2015 Applications

People
Larry Kulchawik Releases Book 'Trade Shows from One Country to the Next'

Company News
IAEE Public Events Council Releases Analysis of the Public Events Industry, 2009-2014

Shows & Events
Telecommunications Industry Association Hosts oneM2M Showcase

submit your news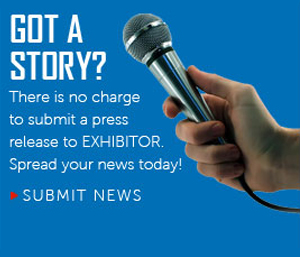 email newsletter
Company News, People, Shows & Events, Industry Press
Trade Show Industry Professionals Participate in the Bemidji State University 2012 Spring Art & Design Portfolio Review
5/9/2012


On Friday, April 27, twenty-seven seniors participated in the Bemidji State University 2012 Spring Art & Design Portfolio Review. The senior Art and Design program majors introduced their work first in an open portfolio viewing session in Bridgeman Hall. Students then individually presented their portfolios throughout the afternoon to industry professional reviewers, in addition to fellow students, alumni, industry advisory board members, current faculty, and family members.

The students showcased their portfolios within four specializations: Exhibit Design, Digital Design - Print, Digital Design - Electronic, and Model Design. Randal Acker, president and COO of Exhibitor Media Group was one of 28 industry professionals who participated in reviewing presentations. Other notable companies represented on the review panel were Star, Skyline Exhibits, The Trade Group, Target Corp., Motorola Inc., among others.

Students' individual portfolio presentations were evaluated on the portfolio content overall, as well as its specific works, supporting narrative, and the presenter's personal appearance/mannerism. Following their presentations, reviewers provided the students with constructive feedback and suggestions for improvement in any of the evaluation areas. Seniors in the Art and Design program graduated on Friday, May 4, 2012.

The Exhibit Design specialization at Bemidji State University has roots back to 1992, when Dr. Kermit Anderson and other faculty began adding exhibit-related courses to the curriculum. Today, the exhibit specialization's lead faculty member is associate professor Dr. Bonnie Higgins.

The event is regularly attended by retired faculty and past presidents of Bemidji State University, including Dr. Anderson, who commented, "I am pleased to see how the program continues to get stronger each year. It is fantastic how many exhibit companies come back year after year to participate."

"It is my mission to continue the legacy and grow our program wherever possible," said Dr. Higgins. "Our connectivity to the industry opens up so many opportunities for our students and the program overall."

Exhibitor Media Group is proud to be part of the great program at Bemidji State University. "Great design is critical in our industry, and BSU's program lays a great foundation for our industry's future designers," said Acker.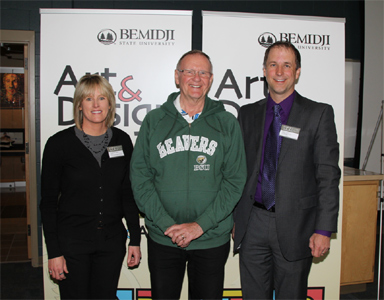 Pictured are Dr. Bonnie Higgins, associate professor, BSU; Dr. Kermit Anderson, professor emeritus of industrial technology, BSU; and Randal Acker, president and COO, Exhibitor Media Group.



The senior Art and Design program majors introduced their work first in an open portfolio viewing session in Bridgeman Hall at BSU.





About Exhibitor Media Group
The leader in trade show and corporate event marketing education, Exhibitor Media Group publishes EXHIBITOR magazine - best practices in trade show marketing. EXHIBITOR also produces EXHIBITOR2013, the trade show and corporate event industry's top-rated educational conference; EXHIBITORFastTrak regional accelerated learning conferences; EXHIBITOR eTrak live online educational sessions; and GRAVITY FREE, the World's Only Multidisciplinary Design Conference. EXHIBITOR is the founder and sponsor of CTSM (Certified Trade Show Marketer), the industry's only university-affiliated professional certification program. EXHIBITOR'S web site, www.ExhibitorOnline.com, is the trade show and event community's most comprehensive online resource.


About Bemidji State University
Bemidji State University, located in northern Minnesota's lake district, occupies a beautiful campus along the shore of Lake Bemidji. The University enrolls nearly 5,000 students annually and offerings include more than 65 undergraduate majors and 13 graduate programs encompassing the liberal arts, interdisciplinary studies and applied fields. The University is a member of the Minnesota State College and Universities System and has a faculty and staff of nearly 600. University signature themes include environmental stewardship, civic engagement and global/multicultural understanding. For further information about the University, visit our web site at www.bemidjistate.edu.




Contact:


questions@exhibitormagazine.com


Related News
Samantha Thibert Named 2012 Recipient of the Exhibitor Media Group Student Achievement Award






FIND IT - MARKETPLACE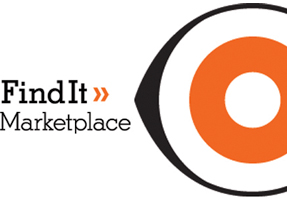 Modular Exhibit Systems

Radius Display Products

Modular Exhibit Systems

Aluvision Inc.

| | |
| --- | --- |
| | |

Rental

E&E Exhibit Solutions

>> More Products