trending
Company News
Access Healthcare Practice and biomedwoRx Announce Strategic Partnership

EXHIBITOR News
Marty Smith Certifies 14 in Lean Six Sigma Orange Belt Training for Trade Show Exhibitors

EXHIBITORLIVE News
EXHIBITORLIVE! Begins Next Chapter for Top-Rated EXHIBITOR Conference

New Products
XING EVENTS Introduces people2meet Tool by XING

Shows & Events
Gaming Exhibits Grow by 30 Percent at the 2015 International CES

Company News
Reed Exhibitions Signs Joint Venture with Triune Exhibitors Pvt. Ltd.

New Products
Brand Management Group Introduces KODAK Universal Backlit Glossy Film

EXHIBITOR News
EXHIBITOR Magazine's Portable/Modular Awards Now Accepting Entries

submit your news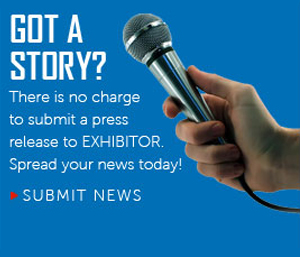 email newsletter
Company News, Shows & Events
Excalibur Exhibits Designs Moving Tribute to Texas Vietnam Veterans
4/18/2013


In tribute to the 3,417 Texas heroes who died in the Vietnam War, Excalibur Exhibits designed and built the "Texas Vietnam Heroes Exhibit". This traveling display was unveiled March 24 at the groundbreaking ceremony for the Texas Capitol Vietnam Monument in Austin, Texas. This exhibit displays 3,417 authentically reproduced hand-embossed dog tags, one for each Texas hero killed in action.

The 3417 Project is a personalized tribute by the Texas Capitol Vietnam Veterans Monument Committee to honor and remember each of the Texans who died in the Vietnam War. The exhibit, prominently displayed in the Lyndon B. Johnson Presidential Library, showcases a set of hand-stamped dog tags for every Texan who died in service to his country. Each dog tag was hung by hand and is personalized with the name, branch of service, rank, date of loss and hometown of a Texan killed in action. An identical set of tags will be entombed in the monument when it is installed on the Texas Capitol grounds.

"Excalibur Exhibits is truly honored that we were chosen to create this memorial exhibit," said Peggy Swords, President and Founder of Excalibur Exhibits. "As a company, we are active military supporters. On a personal level, my father was a retired WWII and Korean War Naval Commander and our Design Director's father is a Vietnam Vet, which made this project truly a labor of love. When you look at the sheer number of dog tags displayed and realize that each one represents someone's father, brother, son, uncle, cousin, etc. who gave their life for our country, it's very emotional."

Excalibur Exhibits designed a modular configuration of seven platforms measuring 34 feet wide by 8 feet deep that can be reconfigured to accommodate smaller spaces. In addition the number of kiosks can be cut in half as each kiosk can be easily adjusted to be double-sided while still maintaining full functionality and visibility. Crates were designed to be small and compact and placed on wheels. Extremely detailed installation and dismantle instructions were also developed for the occasions that museum staff would be performing these tasks on their own.

The platform design includes seven rows of hanging dog tags on both a top and bottom shelf, which are positioned on an angle. This angle, along with various chain lengths, allows for crisp and clean observation and identification. Each dog tag was hung by hand and secured in such a way that they cannot be easily removed. The dog tags are prominently displayed in alphabetical order and stand in line as soldiers at attention ready to be located by their loved ones.

In addition two messaging kiosks set the pace at each entry point to the exhibit listing in alphabetical order the names of the heroes represented on it. Lists are displayed on each base and covered with an acrylic stand-off overlay. By means of a single large format graphic the supporting story of the exhibit and the lost Texas Vietnam Heroes story are introduced. Each of these kiosks are topped with the Texas Vietnam Memorial emblem and display the five US military branch emblems on their bases with the Vietnam War ribbon positioned just above them. Honoring our nation and our state, the United States flag and the flag of the State of Texas adorned with gold corded tassels and fringe are positioned at the exhibit's entry points.

For more information on the monument, visit the Lyndon B Johnson Library website. Video of the website can be viewed on the Excalibur Exhibits YouTube page. HD video and photos are available upon request.


About Excalibur Exhibits
Excalibur Exhibits is a Houston, Texas, based company that specializes in face-to-face marketing solutions for all types of 3-D environments including tradeshows, exhibitions, corporate events, conferences, seminars, meetings, recruitment events, and permanent installations. From award-winning design and trade show management, to client appreciation events and unique promotional campaigns, Excalibur Exhibits creates memorable environments that make a big impact. For more information, go to www.excaliburexhibits.com.




Contact:


pswords@excaliburexhibits.com


Related News
Excalibur Exhibits Adds 26,075 Feet of Manufacturing Space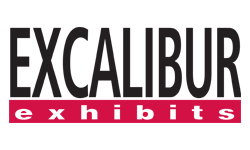 More information about Excalibur Exhibits...
FIND IT - MARKETPLACE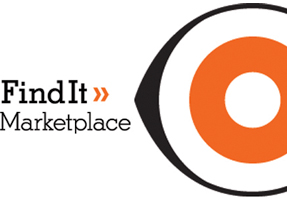 Photography

Vegas Image Sensation

Audiovisual Equipment

Background Images, Inc

Multi-Story Exhibits

FCP Free Space Mezzanines

| | |
| --- | --- |
| | |

>> More Products