trending
New Products
Kaon Interactive Introduces ADN Cloud-based Digital Marketing Platform

EXHIBITOR News
EXHIBITOR Magazine Named a Finalist for Seven Maggie Awards

EXHIBITOR News
EXHIBITOR Magazine to Offer Lean Six Sigma Orange Belt Certification in Chicago, July 22-24

EXHIBITOR2014 News
MC2 Identifies Exhibit Marketers Dreams for Trade Show Programs

People
Nimlok Welcomes Tim Carter as Digital Marketing Manager

EXHIBITOR2014 News
Exhibit Design Students Take the Stage at EXHIBITOR2014

Venues & Destinations
The Swiss Tech Convention Center a Laboratory for Conferences of the Future

EXHIBITOR2014 News
Robert Burk and Gail Hernandez Honored with EXHIBITOR CTSM Lifetime Achievement Award

submit your news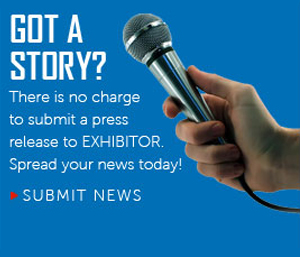 email newsletter
Company News, People, Shows & Events, EXHIBITOR2014 News
TradeTec Skyline Hosts Bemidji State University Exhibit Design Student's Field Trip to Chicago
11/27/2013


In the tradition of giving back to the trade industry, TradeTec graciously hosted Bemidji State University Technology, Art and Design students during their recent field trip to Chicago, IL. Many students in their Junior and Senior year attend a live trade show event and visit an Exhibit Studio for a real-world experience and perspective of the industry. Since 2012, TradeTec has been a member of the Bemidji State Advisory Board and a participant in their Foundation and mentorship program run through the EDPA.

Bemidji State University is the only college to offer a dedicated Bachelor's degree tailored toward Exhibit Design, Graphic Design, Model Making, Multi-media Design, and Industrial Technology within the United States.

One of TradeTec's designers, Elle O'Neill, is a graduate of the Bemidji State University's Department of Technology, Art and Design program. Her Bachelor's Degree specializes in the craft of digital and exhibit design for preparation in the trade show and environment industry. During the EXHIBITOR SHOW in Las Vegas, TradeTec's Creative Director, Chris Ybarra, and President, Troy Trice, spent some time with the Bemidji State University students reviewing creative portfolios and discussing the industry exhibits throughout the event. This began TradeTec's ongoing relationship with the students within the design program and brought Chris up to Bemidji State in May 2013 to take part in the Advisory Board and Portfolio Review that took place on campus.

In October 2013, Chris Ybarra was contacted by design student and Design Guild President, Danika Stelton, regarding their field-trip. Chris volunteered to meet up with the students at the FabTech Expo at McCormick Place to tour the show floor with them and offer credible insights to the industry. In supporting the industry and student efforts, Chris also offered to host them at TradeTec to show how a real-life Exhibit Studio functions from day-to-day.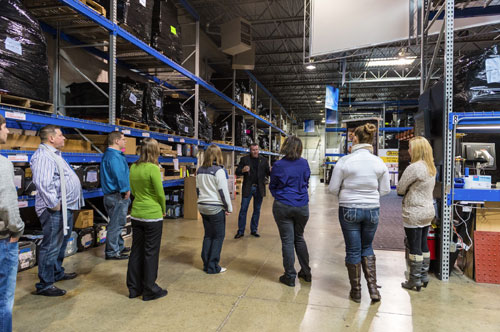 Ken Buckman, CEO, addresses the students.




TradeTec CEO, Ken Buckman and President, Troy Trice, began the presentation with an introduction of TradeTec Skyline, the business as they have experienced - while depicting how they both got started in the event industry. TradeTec provided them a full-tour of the facility, demos of the WindScape™ display, introduction to their unique design processes and showed them a 360° degree of how each department: service, marketing, sales, design and account management plays an essential part in overall operations. Elle was fundamental in the presentation revealing her experience as first a student at Bemidji State, to a working professional within TradeTec's design team.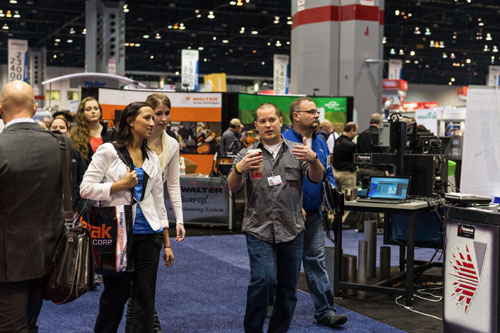 Chris Ybarra, creative director, leads a tour of FabTech.




TradeTec invited ACME Design Inc., a Chicago based molding and sculpting studio, to attend the event and present to those students also interested in model making and sculpting. ACME brought in sample models and production showpieces of jobs and delivered a great presentation that enabled the students to understand the functionality of model making and how it coincides with environment design. The students were in awe of the time and courtesy TradeTec disclosed during their visit.

The design department presented client exhibits, examples and ideas, showcased TradeTec processes and how they work with different vendors, substrates, elements of design, lighting and furniture. Students were encouraged to ask questions and discuss openly their concerns and fears for the future.


BSU students tour overview of the design process.




Student Jeremy Meisler said, "Thanks for opening your doors and being very hospitable to us. It was a great experience." As the day came to a close the students took photos in front of the TradeTec building and left with their TradeTec padfolio's, giveaways and information that will encourage them to keep working hard - now with a better understanding of the industry and how their role plays an essential part of the industry's future.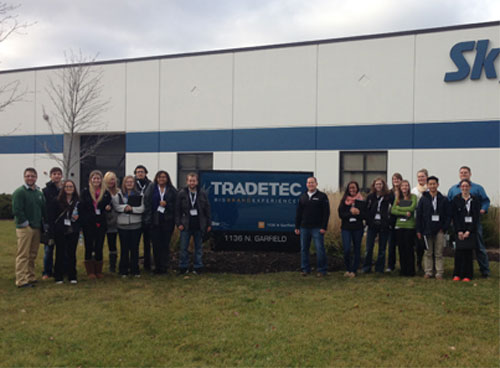 BSU students pose in front of the TradeTec building.




TradeTec believes in giving back and has future plans to assist in continual mentorships, hosting of Bemidji students, as well as participating internships and job placement assistance. For more information on TradeTec Skyline and the Bemidji State visit, contact us at gmm@ttskyline.com.


ABOUT ACME DESIGN INC.
ACME is a shop of experienced staff and trained artisans who practice blending traditional methods with the latest technology to produce models, exhibit displays, props, prototypes and custom designed sculptures. All models are made to order and completely unique for any purpose or industry. For more information go to www.acmedesigninc.com.

ABOUT TRADETEC SKYLINE
TradeTec is a full-service Exhibit Studio located just outside Chicago, IL that offers enhanced trade show exhibits, displays, permanent installs, full management, planning and execution of corporate meetings and face-to-face events. As a Skyline Elite Partner, TradeTec also provides their clients with modular programs and a global reach, while boasting one of the industry's largest rental display fleets. Their services include award winning design, warehouse, I&D, maintenance and pre and post-show full lead enhancement marketing programs. For more information go to www.ttchicago.com.

ABOUT BEMIDJI STATE UNIVERSITY
Bemidji State University, located in northern Minnesota's lake district, occupies a beautiful campus along the shore of Lake Bemidji. The University enrolls nearly 5,000 students annually and offerings include more than 65 undergraduate majors and 13 graduate programs encompassing the liberal arts, interdisciplinary studies and applied fields. The University is a member of the Minnesota State College and Universities System and has a faculty and staff of nearly 600. University signature themes include environmental stewardship, civic engagement and global/multicultural understanding. For further information about the University, visit our web site at www.bemidjistate.edu.





Contact:


gmm@ttskyline.com







FIND IT - MARKETPLACE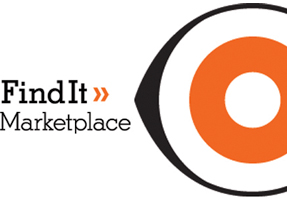 Training Programs / Seminars

Trade Shows On Steroids Training

International

SAKURA International Inc.

Audiovisual Equipment

SmartSource Computer & Audio Visual Rentals

Exhibit Producers

ProExhibits

>> More Products