trending
Company News
Bartizan Launches New Responsive Website Design

EXHIBITORLIVE News
3D Exhibits to Launch U3D Campaign at EXHIBITORLIVE 2015

EXHIBITORLIVE News
ELITeXPO to Debut Hi-Tech Tradeshow Analytics System at the EXHIBITORLIVE New Product Showcase

EXHIBITORLIVE News
Stephen Ross of Access TCA to Present 'From Curb to Carpet' at EXHIBITORLIVE

Company News
PMMI Announces Launch of PMMI Media Group

Company News
MarketCraft Studios Announces Brand Integration with Exhibit Fair International

EXHIBITORLIVE News
Fabian Lopez Earns EXHIBITOR's Certified Trade Show Marketer (CTSM) Designation

People
Tom Marchetto Joins SMG as Senior Vice President, Strategic Marketing

submit your news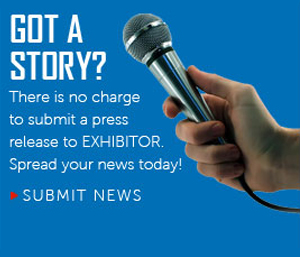 email newsletter
Awards, People, EXHIBITOR News
Trevor Beniak Named 2014 Recipient of the Exhibitor Media Group Student Achievement Award
2/13/2014


The Bemidji State University Art & Design Program and Exhibitor Media Group announce Trevor Beniak as the 2014 recipient of the Exhibitor Media Group Student Achievement Award. The award recipient is selected by the faculty in the Art & Design Program and is awarded by Exhibitor Media Group. Trevor's academic performance and leadership in the classroom at BSU set him apart from others in the program.

As the recipient of the award, Trevor receives a Gold Passport to EXHIBITOR2014, the face-to-face training conference and expo for trade show and event marketers, to be held March 16-20, 2014, at the Mandalay Bay Convention Center in Las Vegas. He will also receive a one-year subscription to EXHIBITOR magazine, and his name engraved on a plaque displayed in Bridgeman Hall, home of the BSU Art & Design Program.

Trevor, of Mazeppa, MN, is a junior and will graduate in May 2015 with a Bachelor of Science degree in Art & Design with an emphasis in Exhibit Design and Digital Design.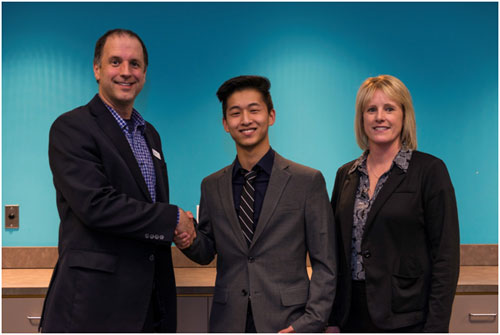 Pictured in the photo are Randal Acker, President & COO of Exhibitor Media Group, Trevor Beniak, and Dr. Bonnie Higgins, Professor, BSU





About Bemidji State University
Bemidji State University, located in northern Minnesota's lake district, occupies a beautiful campus along the shore of Lake Bemidji. The University enrolls nearly 5,000 students annually and offerings include more than 65 undergraduate majors and 13 graduate programs encompassing the liberal arts, interdisciplinary studies and applied fields. The University is a member of the Minnesota State College and Universities System and has a faculty and staff of nearly 600. University signature themes include environmental stewardship, civic engagement and global/multicultural understanding. For further information about the University, visit our web site at www.bemidjistate.edu.


About Exhibitor Media Group
The leader in trade show and corporate event marketing education, Exhibitor Media Group publishes the award-winning EXHIBITOR magazine - best practices in trade show marketing, and produces EXHIBITOR2014, the trade show and corporate event industry's top-rated educational conference; EXHIBITORFastTrak regional accelerated learning conferences; EXHIBITOR eTrak live online educational sessions; and GRAVITY FREE, the world's only multidisciplinary design conference. EXHIBITOR is the founder and sponsor of CTSM (Certified Trade Show Marketer), the industry's only university-affiliated professional certification program. www.ExhibitorOnline.com is the trade show and event community's most comprehensive online resource.




Contact:


questions@exhibitormagazine.com







FIND IT - MARKETPLACE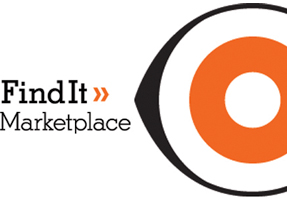 Interactive Multimedia

Elation Digital

Modular Exhibit Systems

Expand International of America, Inc.

Lead Retrieval

ShowMax Marketing

Rental

Orbus Exhibit & Display Group

>> More Products