trending
Company News
Access Healthcare Practice and biomedwoRx Announce Strategic Partnership

EXHIBITOR News
Marty Smith Certifies 14 in Lean Six Sigma Orange Belt Training for Trade Show Exhibitors

EXHIBITORLIVE News
EXHIBITORLIVE! Begins Next Chapter for Top-Rated EXHIBITOR Conference

New Products
XING EVENTS Introduces people2meet Tool by XING

Shows & Events
Gaming Exhibits Grow by 30 Percent at the 2015 International CES

Company News
Reed Exhibitions Signs Joint Venture with Triune Exhibitors Pvt. Ltd.

New Products
Brand Management Group Introduces KODAK Universal Backlit Glossy Film

EXHIBITOR News
EXHIBITOR Magazine's Portable/Modular Awards Now Accepting Entries

submit your news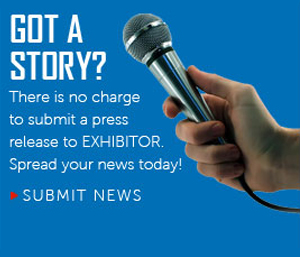 email newsletter
Company News, Shows & Events, EXHIBITORLIVE News
ExpoDisplays MultiQuad Rocks at EXHIBITOR2014
3/27/2014


Being square never rocked so hard! ExpoDisplays a leading display manufacturer rocked EXHIBITOR2014 with an engaging demonstration of ExpoDisplays' signature MultiQuad™

As almost a 20 year veteran of EXHIBITOR magazine's EXHIBITOR Show in Las Vegas, ExpoDisplays has shown the unique MultiQuad exhibit system for the last 4 years. This year the Alabama based manufacturer chose to have fun with the concept. An enclosed, old music venue was constructed out of the light weight aluminum frames of MultiQuad.

The front of the exhibit facing the entrance to the show was plastered with Quads™ of an iconic image of Jim Morrison. The interior was fitted as backstage at the theater. Inside, lights pulsing to music, roadie cases, and stage curtains set the tune for the game featured on one wall. 50 of the best albums of all time were brought to the show where attendees were encouraged to interact with the albums in choosing what they thought were the 20 best albums.

Holding the 23" square Quads in their hands gave attendees a chance to engage with the product and gain a better understanding of this number 1 selling product. Most visitors checked in often to see where their favorite album stood in the game. At 3:30 each day, a winner was chosen to receive 20 of their choice of albums, cds or iTunes gift cards.

ExpoDisplays has a worldwide network of over 200 Distributors. The MulitQuad is a favorite among their products as it is lightweight and extremely easy to assemble with no tools required. Michigan based Distributor, Anita Mitzel, President of Graphicolor said, "Very cool! Best MultiQuad booth design ever. We will share it with our connections." And that was the general consensus as people gathered, visited, re-visited the booth, tweeted, took selfies and changed their social media profile pictures to images of themselves standing in the exhibit.

Founded in 1970, ExpoDisplays is one of the nation's leading display manufacturers with over 200 Distributors worldwide. Headquartered in Birmingham, AL, ExpoDisplays is a full service exhibit house. Services include exhibit and graphic design, fabrication, installation, storage and exhibit management. Unlike most exhibit house that manufactures either custom exhibits or portable displays, ExpoDisplays manufactures both. This includes over a dozen lines of trade show exhibit products. For more information go to www.expodisplays.com.




Contact:


marketing@expodisplays.com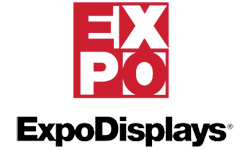 More information about ExpoDisplays...
FIND IT - MARKETPLACE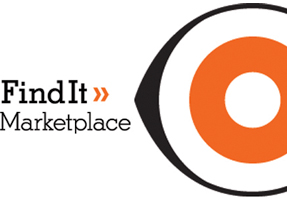 Lighting Products

Pegasus Lighting

Exhibit Producers

ProExhibits

| | |
| --- | --- |
| | |

Modular Exhibit Systems

Nimlok

>> More Products