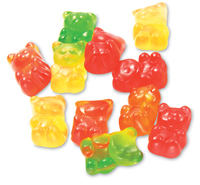 Let's face it: One of the best ways into a journalist's heart is through his or her stomach. Schonox, a division of Akzo Nobel N.V., capitalized on the power of edible offerings by placing small sacks of gummy bears in the press room at the 2012 World of Concrete show in Las Vegas. But the bear-filled bags were more than mere vessels full of sugary goodness - they were also branded trafficbuilding implements. Each sack was designed to resemble miniature versions of the packages in which Schonox's building-adhesive products are sold. Complete with a simple sticker inviting recipients to "visit our booth B2305," the sweet treats tempted journalists' taste buds while referencing the company's brand and offerings. Talk about leaving a good taste in press reps' mouths - and a memorable brand image in their minds as well.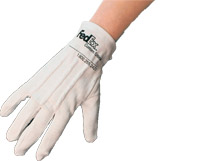 When it comes to shipping priceless works of art around the globe, standard FedEx Ground doesn't cut it. That's why FedEx Corp. wanted to showcase its White Glove Services to attendees at the 2012 MuseumExpo. Part of the company's Custom Critical suite of offerings, FedEx White Glove Services include everything from heightened security features to temperature-controlled vans to special-handling options for delicate freight. So to get the conversation started with passersby, booth staffers offered attendees a pair of branded white gloves. When attendees stopped to accept the curious but coveted gift, staffers extolled on how FedEx can give their priceless artifacts the white-glove treatment while in transit. Not only did the giveaway tie directly to the company's services, but it was also a functional gift uniquely appreciated by MuseumExpo attendees, since they can don the gloves any time they need to handle, arrange, clean, or repair the items in their respective collections.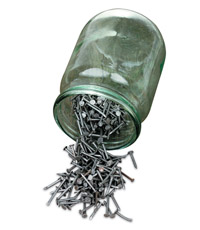 How do you build an ingenious in-booth activity around a charitable donation? If you're DisplayWorks, an Irvine, CA-headquartered exhibit house, you use about 600 nails. In conjunction with the Healthcare Convention & Exhibitors Association Annual Meeting, DisplayWorks built and donated a playhouse to the Children's Center at the University of New Orleans. However, to drive traffic to its booth and draw attention to its charitable activities, it decided to donate the playhouse in the name of an attendee. So to announce this donation, DisplayWorks sent attendees a pre-show mailer directing recipients to its booth to guess the number of nails in a featured display. The company would then donate the playhouse in the name of the person with the closest guess to the actual number of nails. At the booth, attendees discovered a jar filled with nails encased in a Plexiglas column. Graphics behind the display featured an illustrated image of a house, and the words "Over thirty years of building better exhibits. Guess what we're building now?" In one fell swoop, the in-booth display and pre-show mailer lured attendees to the space and branded DisplayWorks as a philanthropic firm.







To get attendees' attention and hold them captive in its booth at the American Society for Radiation Oncology show, Accuray Inc., a developer and manufacturer of radiation and oncology equipment, set up its exhibit in a strategic fashion. Facing the outer aisles, the 20-by- 60-foot booth, designed by 3D Exhibits Inc., featured a 435-square-foot deck where a presenter spoke about the company's cancer-treatment solutions. When she was finished speaking, a Plexiglas door behind her slid open to reveal the exhibit's contents. Staffers ushered attendees inside and toward product demos, which were set up on the exhibit's interior. The booth then functioned like a Venus flytrap: Every hour, it lured attendees to its exterior stage with a presentation and then beckoned them inside for a product demo afterwards. Now there's an exhibit that really holds attendees captive.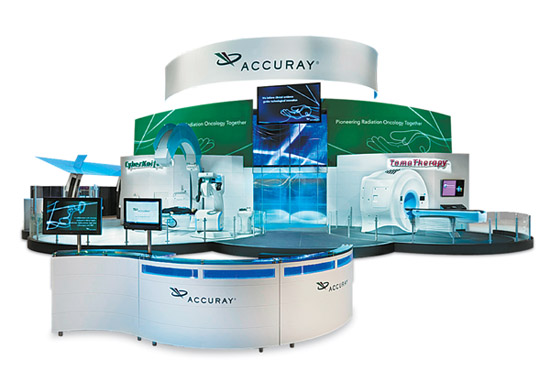 Photo: (ACCURAY INC. EXHIBIT) PADGETT & CO. INC.


For Quality Systems Inc., a picture is worth a thousand words. The company's 20-by-30-foot exhibit at the 2011 American Dental Association Annual Session featured a square truss supporting an overhead banner that read "QSI we make it possible." The truss surrounded two 13-foot-tall fabric graphics, each of which contained an image of an overstuffed bookshelf full of medical charts. Combined with an uncluttered booth space, the display immediately communicated that QSI offers organizational software for electronic health records.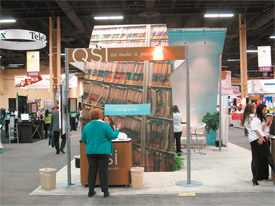 Hoping to lend its product catalog a little personality at the National Stationery Show, Minneapolis-based Old Tom Foolery covered it with a folded 11-by- 17-inch poster-like sheet designed to resemble a newspaper dubbed the "Old Tom Foolery Times." The front-page news items featured a story on a "heartwarming" newbaby greeting card that reads, "New dad throws up in mouth while filming miracle of birth." While the newspaper comprised only one side of the tabloid-size sheet, it was wrapped around the product catalog and then inserted into a clearplastic sleeve, making it appear to passersby as though the clever company had published a 30-page newspaper.





If someone suggested that you strap magnets to your hands and feet and then scale a sleek magnetic surface like a spider, you might think you were being set up for an episode of "Jackass." Spider Climbing Inc., a manufacturer of this very type of magnetic climbing walls and gear, anticipated arched eyebrows from attendees at the International Association of Amusement Parks and Attractions (IAAPA) Expo, so the company set up a demo to prove the validity of its product.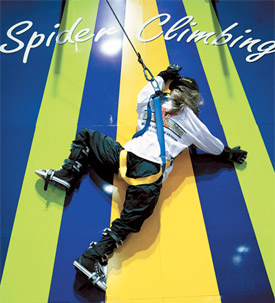 A section of the company's magnetic climbing wall functioned as the back wall of its 10-by-10-foot booth, and a life-like mannequin outfitted with magnetic-grip gloves on its hands and feet was positioned as if it were scaling the surface. At a glance, attendees saw how the company's product worked, and breathed a sigh of relief that staffers weren't asking them to make the climb.