Here's a sampling of some of the industry's hottest new eco-friendly ideas. From recycled booths to recycling containers, going Greener has never been easier.

For more on Green Exhibiting, visit www.GreenExhibiting.com.


Panda-ring to the Crowd

Pandas and bamboo go together like trade shows and attendees. So to promote its eco-friendly bamboo Panda Banner Stand at TS², Go Green Displays planted 50 small plastic panda figurines around the exhibit hall. Each little panda wore a tag that read, "Please return me to booth #826 to claim your prize." When attendees brought the pandas to the Go Green booth, staffers gave them an organic chocolate bar, put their name into a post-show drawing for a $599 Panda Banner Stand, and explained that for each panda returned, the company would donate $1 to the World Wildlife Federation. A booth staffer hid each returned panda again, keeping the fun going throughout the show. Though Go Green hoped all 50 pandas would be found, at least 150 attendees returned pandas to the booth, delivering staffers a ready audience to learn about the company's products.


Pack Lightly

For many exhibitors, packing materials such as Styrofoam peanuts, bubble wrap, and cardboard boxes become nothing more than garbage after their first use. However, Decopots.com turns this trash into exhibit-marketing treasure. The company collects the packaging material it receives throughout the year and uses it to pack its fragile pottery products for shipment to trade shows and events. Thanks to the company's continuous reuse, it rarely needs to buy additional packing materials, meaning its Green efforts also put some green back in its pockets.



Eco-Friendly on the Rocks

Loads of exhibitors at the 2008 GlobalShop show offered alcoholic beverages to attendees, but what does a dry martini or a light beer say about your brand? Fleetwood Fixtures wanted to be hospitable and relevant. That's why the Leesport, PA-based custom retail-fixture manufacturer served up cocktails that clearly communicated the company's focus on sustainability. The "Ecotini" (vodka, ginger, lime, and wheat grass) represented the key message that Fleetwood uses reclaimed wood and powder coating, both environmentally friendly options, in making its products. The "Spiked Milk" cocktail (vanilla vodka and crème-de-cacao) referenced Fleetwood's use of recycled milk bottles to make furniture. Not only did the clever cocktails quench attendees' thirst, they helped tell Fleetwood's eco-friendly story.



It's on the Bag

Trade show pressrooms are loaded with paper and pocket folders — not exactly a scenario that screams Green. So for the Go Green Expo, Eco-Bags Products Inc. dreamed up an eco-friendly solution: It printed its release on its reusable produce bag. The unforgettable releases attracted at-show attention and generated post-show memorability, while educating journalists about the company's product.


Say It With a Smile

When exhibit house Steelhead Productions launched its rental-only policy at EXHIBITOR2008, it did so with a smile. Citing environmental reasons for its switch from custom exhibit options to rental-only exhibit offerings, Steelhead used an "Exhibit Happy. Rent." theme to drive home the message. Booth staffers clad in T-shirts bearing a smiley face and the words "Exhibit Happy. Rent." steered attendees toward touchscreens to view a presentation explaining the change. They then took a Polaroid photograph of each attendee smiling and posted it on a 10-foot-tall photo collage. After the show, Steelhead mailed each attendee his or her photo along with a thank-you note.


Waste Not, Want Not

When Invista headed to the Greenbuild Conference and Expo in Boston, it didn't ship anything to the show. Instead, the manufacturer of carpet fibers and polymers crafted its entire display from locally sourced and reclaimed items to demonstrate its commitment to going Green. The booth's 14-year-old Antron carpet, made from Invista fibers, came from a Boston university that had recently replaced it. The in-booth seating was purchased in Boston and was later repurposed inside one of Invista's customer showrooms. Plus, instead of banners displaying the company name and Web site, a local artist created signs out of used chalkboards and colored chalk. And booth staffers directed booth visitors to a chalkboard featuring the company's Web address, where attendees could download information after the show.



Box It Up

The reduce-reuse-recycle practice is alive and well on the trade show floor, and for Altera Coffee Roasters, it offers added benefits. At the 2008 Specialty Coffee Association of America show, the company stacked three empty product boxes, reinforced their corners, and placed a wooden slab on top — voila, instant exhibit table. Staffers could store setup materials or tools in the boxes until they were needed after the show; plus, the simple solution became a branded attention getter and gave a friendly nod to Mother Earth.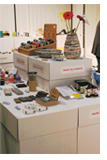 Budget-Friendly Boxes

Faced with a bare-bones budget, Made By Humans barely had enough cash to cover shipping costs for a booth at the 2009 National Stationery Show. Even renting an exhibit locally proved too pricey. So the Canadian designer of contemporary giftware contacted a cardboard box company. Together, they custom designed white cardboard boxes that could be shipped flat and put together on site to create eye-level display tables. When Made By Humans' booth staffers arrived on site, they simply assembled the boxes, and positioned most around the exterior of the space. A two-tiered center-island structure — also made of boxes — completed the exhibit. The result was a significant savings on shipping and drayage, and since the cardboard was both recycled and recyclable, the custom structure was eco-friendly to boot.

Coaster to Coaster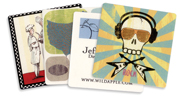 Why settle for flat and forgettable business cards when you can choose something more functional instead? For the 2009 National Stationery Show, Woodstock, VT-based Wild Apple Graphics Ltd. printed various illustrated works on the backs of coasters made from recycled paper. On one side, recipients could see the styles of art the company (which licenses art and produces posters) has to offer, while the other side featured the company's logo, URL, and contact info. Handed out to NSS attendees, the eco-friendly coasters did triple duty as product samples, functional giveaways, and out-of-the-box business cards.
Purposeful Pileup

Cupcoat Expressions, a Canadian manufacturer of reusable coffee sleeves made of fabric and Thinsulate, had a unique challenge for the 2008 Specialty Coffee Association of America show. It not only needed to create awareness for its product, it also had to demonstrate a need for it in the first place. While coffee shops hand out hundreds of cardboard cup holders every day, most people don't consider the environmental impact those cup holders have on our landfills. So Cupcoat piled nearly 500 cardboard cup sleeves beneath a simple product display in the corner of its 10-by-10-foot booth. While the mountainous mess demonstrated the waste produced by typical sleeves, it allowed staffers to open conversations expounding on both the problem and Cupcoat's nifty solution.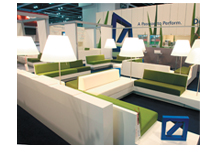 Big Booth Giveaway

When your exhibit is intended to send a message about sustainability, you better go as Green as you can. That's why for the 2009 Swift International Banking Operations Seminar (SIBOS) in Hong Kong, Deutsche Bank AG didn't merely use a host of durable, Green materials such as FSC-certified Topan MDF, 100-percent recyclable High-Sign felt, and 100-percent emission-free Proterra and Thermopal. It also donated roughly 90 percent of the exhibit — including appliances, computers, and more — to the Christian Zheng Sheng College near Hong Kong, aiding Mother Nature while sidestepping return-shipping costs. Talk about a strategy that's both smart and sustainable.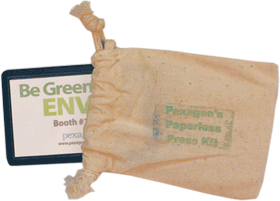 Goody Bag

Pexagon Technology Inc. wanted to tell the media that it was going paperless at EXHIBITOR2009. So instead of a traditional paper press kit, media reps received a small muslin bag with the words "Pexagon's Paperless Press Kit" stamped on it in green ink. Inside, a business card-sized USB bore the words "Be Green with ENVi Booth #1571." The drive contained photos, success stories, and press releases, including one featuring Pexagon's new software, ENVi. The humble little bag grabbed journalists' attention, while the info on the USB answered all their questions.


Old-School Demo
While plenty of exhibitors make claims that their products are durable, Invista proved it at Greenbuild 2007 with a 30-year-old carpet sample that looked as good as new. Prior to the show, Invista, which manufactures the ultra-durable Antron Carpet Fibers used by carpet manufacturers such as Mohawk Industries and Mannington Mills Inc., collected carpet samples made with its fibers that had recently been removed from a school. Showing remarkably little wear, two swatches of the bright-colored carpet were inlaid in Invista's exhibit carpet, surrounded by the text: "sustainability begins with carpet that lasts" and "30 years on the floor." The carpet might have been in school for three decades, but it looked like it did on the first day of kindergarten, making Antron's durability an easy lesson to learn.

Stacks with Style

Why display your booth literature in routine racks when you can transform it into a design element? The U.S. Green Building Council rolled out a new environmental reference guide at the NeoCon World's Trade Fair in Chicago, and planned to hand out copious copies. But instead of placing them in literature stands, USGBC turned stacks of the guides into artistic columns as well as the legs of its reception desk. The stacks offered a whimsical way to focus visitors' attention on the guides while creating a unique in-booth aesthetic.


Walking the Walk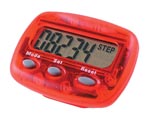 Going Green's the thing these days, so ArtGuild/Avalon Exhibits used that trend to entice visitors to its booth at a number of 2008 trade shows. Prior to each show, the exhibit house sent pre-registered attendees a mailer featuring vivid green shoes and text that asked them to come to its booth to "Take a Step Towards Going Green." When attendees arrived at the booth, staffers handed them a branded pedometer and told them if they wore it throughout the show and later brought it back to the booth, the company would donate $1 per mile walked to the Exhibit Designers and Producers Association's Green initiative that promotes sustainable design, construction, and operation in the trade show industry. Since starting the promotion in March, ArtGuild/Avalon Exhibits has distributed more than 400 pedometers. Roughly 190 attendees returned the pedometers to the booth, racking up a total of 1,000 miles, which has translated into a $1,000 donation to EDPA's Green initiative. Now that's a step in the right direction.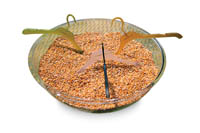 Kinda Corny

Cortec GmbH wanted to display its CortEco line of biodegradable hang- ers at EuroShop 2011 in Dusseldorf, Germany. But simply displaying the hangers didn't communicate their eco-friendly makeup or biodegradable benefits. A pile of Green hangers doesn't look all that different than a pile of non-Green ones. So since the hangers are made from corn starch, the company chose to position them sticking out of large bowls filled with kernels, displayed atop flooring that featured a graphic of ears of corn in a repeating pattern. Corny? Of course. Effective? Absolutely.

Green Garbage

Hewlett-Packard Development Co. LP goes a step further than most exhibitors' Green schemes by positioning recycling stations inside its exhibits. HP's booths are dotted with elegant receptacles (each with different compartments for paper, plastic, and trash), giving attendees an easy alternative to relegating their refuse to a landfill.


Tag, You're It
Promotional items such as pens or T-shirts are fine, but if you want your giveaway to stand out, you'll need something with a little more pop - and it wouldn't hurt if that something was related to your product. At Semicon West 2008, Keithley Instruments Inc. created a giveaway that was clever and product-relevant. The manufacturer of high-tech measuring instruments created luggage tags made out of recycled computer motherboards. The green-and-silver tags featured the company's name and Web site on one side and a plastic holder for a business card on the other. Unlike other exhibitors' same-old swag, Keithley Instruments' techie tags resonated with the company's tech-minded audience and kept the Keithley name on attendees' minds - and bags - long after the show.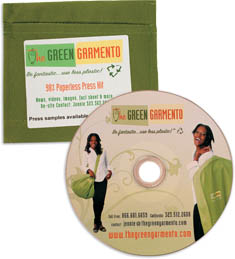 Seeing Green

Compact, eye-catching, and literally green, the press kit from The Green Garmento LLC was not only a perfect fit for the brand; it was a couldn't-miss little gem in the press room at the International Hotel, Motel + Restaurant Show. The Green Garmento offers a Green alternative to plastic dry-cleaning bags used by myriad facilities including hotels. The fabric Garmento can be used as a clothes hamper at home, a duffel bag en route to the dry cleaner, and a hanging garment bag to protect clean clothes in lieu of individual, disposable plastic bags. Not surprisingly, then, The Green Garmento's press kit was a tribute to green both literally and figuratively. Made of the same corporate-green fabric used in the Garmento bags, the press kits were nothing more than a CD-holder with an enclosed CD, bi-fold card, and business card. The exterior of the press kit featured a self-adhesive label with the product logo and "Be fantastic … use less plastic!" tagline printed on it. Label text also explained that it was a "98% Paperless Press Kit" featuring "News, videos, images, fact sheet & more." Simple yet unique, the press kit was totally on brand — and off the press-room shelves in no time.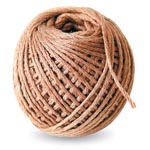 Metaphorically Speaking

Sometimes spelling out your company's messages in plain text just isn't enough. In its booth at the 2007 GreenBuild Show at McCormick Place in Chicago, Shaw Industries Group Inc. created 3-D visual metaphors to emphasize its key messages even further. In one section of the 50-by-50-foot exhibit space, a sign next to an oversized ball of twine explained that the flooring company recycles enough nylon fiber to wrap the earth 3,000 times. In another area of the booth, a sign near giant containers of faux French fries explained how the company's trucks run on yellow grease (aka discarded cooking oil). Unlike flat and utterly forgettable text, the 3-D components piqued attendees' interest and added an extra dimension to the company's Green-themed messages.



For more on Green Exhibiting, visit www.GreenExhibiting.com.

Got an eco-friendly idea for your exhibit you want to share? Tell us about it at editor@exhibitormagazine.com.