dozen times or so every year, Paetec Communications Inc., which sells million-dollar telecommunications services to businesses, invites its top salespeople to hobnob with potential customers at events scattered around the country. At these informal gatherings, a magical thing happens: prospects often progress from being warm leads to ready-to-sign customers.
What makes the events even more remarkable is that Paetec's salespeople aren't on its payroll — they're the company's existing customers. No hard-sell professionals, just honest, unpaid customer evangelists who share their unvarnished stories with peers at an informal cocktail party and dinner. Conversation naturally turns to the company's products and services.
Launched in 1998, Paetec has become a $500-million company by embracing the customer evangelism philosophy. A customer evangelist is more than just a loyal customer. He or she has an emotional connection with your company.
Here's how to recognize if your company has evangelists:


Customers say they believe in your product or service.


They passionately recommend you to others.


They are not bought; they extol your virtues freely.


They provide unsolicited feedback or praise.


They forgive occasional dips in service and quality but let you know when quality slips.


By associating with you, they feel connected to something bigger than themselves.
A referral from a customer evangelist is just as valuable, if not more so, than three or four days of intense work from a salesperson. In the world of business-to-business sales and marketing, the work of a customer evangelist can considerably shorten the decision-making process.
The good news: If your company is like the companies we've studied in our investigations of word-of-mouth and evangelism, 20 to 25 percent of your customers may be ready-made evangelists. Corporate events can create and extend customer evangelist communities, building emotional and binding loyalty.
After attending hundreds of events, we've seen firsthand the work of event planners both great and moribund. We've witnessed how attendees can talk enthusiastically or drudgingly about their event experience. People may attend events as shoppers, but few enjoy being pitched.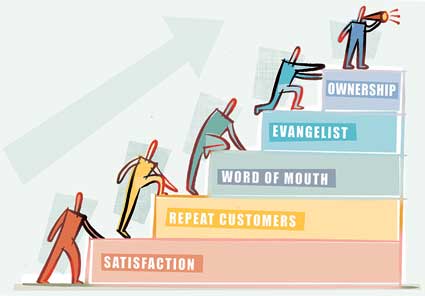 To create evangelists among your event attendees, first you must free yourself and your employees from an overwhelming focus on selling. Instead, establish activities that allow customers to become your salespeople via strong word of mouth. The following 10 ideas will help you get started.
1. Ask Customers to Facilitate Activities
Peer-to-peer roundtables, customer-led "best practices" seminars, and customer feedback sessions build word of mouth because they allow honest, unscripted opinions to fly freely from person to person. You might be surprised by the number of customers who volunteer to help.
2. Provide Peer-to-Peer Opportunities
Double the number of opportunities you have planned for customers to meet one another. This means allowing more time between breakout sessions, more community-building time, and more activities. Encourage attendees to share what they have learned about working with your company, and to freely discuss issues, successes, and even problems. Ask for volunteers to become stakeholders in improvements or resolutions. That's a key strategy for moving customers up the ladder of customer loyalty toward a sense of ownership.
3. Be InteractivE
Limit the amount of one-way communication from your company. Talking heads can create good sound bytes, but they do not foster community. Interaction helps attendees retain and share what they learn.
4. Set Word-of-Mouth Goals
How do you want attendees to describe your events to fellow attendees or co-workers back at company headquarters? What types of phrases in your industry do customers repeat? To find out, discover what customers are already talking about.
A number of freely available Web-based tools can assist your research. Type your company or product's name into a free, online, blog-search tool such as PubSub.com, Technorati.com, and IceRocket.com, and see what people are saying about it. Then create phrases you want customers to spread and design your event accordingly.
5. Be Creative and Surprising
In pre-conference materials, publicize a "surprise" keynote speaker. Hold the event in a non-traditional location, like an old theater or nightclub. Make the presentations as theatrical as possible. If you want to create word-of-mouth, your event must do something remarkable.
6. plan a Social-Media strategy
Social media is any technology that allows people to connect with one another, including blogs, bulletin boards, podcasts, e-mail, etc. Their accessibility and speed of delivery accelerate word-of-mouth.
Blogs: Blogs allow attendees to report on your event in real time, providing nearly instantaneous feedback. Event bloggers provide commentary on ideas, meetings, or information they find valuable. They evangelize people or products they love and report problems or issues that raise their ire. Their honesty makes them credible to fellow customer prospects.
You could also consider hiring bloggers — ideally, existing customers — to cover your event. They attend the keynotes and other key sessions and record their posts on an event blog. Be sure to fully disclose the terms of bloggers paid to cover your event.
Wikis: A wiki is a Web site that easily allows participants to create or edit its content. A wiki can be an invaluable way for event planners and stakeholder attendees to collaborate on themes, speakers, and breakout sessions.
Tags: A tag is a descriptive phrase or keyword that makes it easy for people to find posts or photos on the Internet related to your event. Create a suggested list of tags for your social media participants and link to those tags from your conference Web site, blog, or wiki.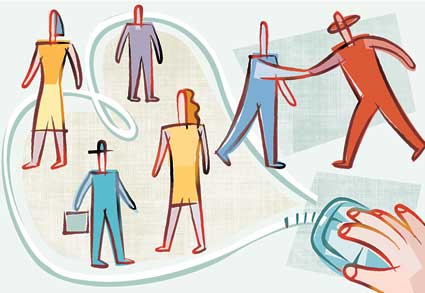 7. Make Wi-Fi Access Free
Free Wi-Fi can be a terrific buzz-builder because it's still rare at events. With increasing numbers of attendees capturing notes on laptops, free access to strong and efficient Wi-Fi is a great marketing advantage. Buzz can spread quickly when attendees can blog, podcast, post to message boards, e-mail, and research information directly from your event.
8. Webcast presentations, Sessions, and Keynotes
Why does Steve Jobs' keynote presentation at Macworld Conference and Expo every year generate reams of free press and widespread publicity? First, Jobs is a practiced speaker who is comfortable on stage and fearless with hyperbole. But Apple also makes his keynote freely available on its Web site, as it's happening. A few thousand people see him in person, but hundreds of thousands more watch him online.
For information-intense events such as user groups, share a few conference sessions via webcast, podcast, live blogging, or Internet Relay Chat (IRC). An IRC channel allows non-attendees to meet in an online chat room and interact with each other and event attendees.
9. Solicit Feedback
Last year, Ben spoke at a software company's customer conference, and then facilitated a breakout session for the company's C-level customers. The session was planned as a how-to session for incorporating feedback into their companies' DNA, but it turned into a feedback session for the host company.
While some might have considered this a nightmare scenario, it turned out to be quite the opposite. The CEO had several "ah-ha" moments throughout the session. He spoke candidly in response to their concerns, much to the customers' delight. As a result, several customers volunteered to help the company with their improvements.
Many companies are afraid to open themselves up to real-time feedback —especially in front of customers — for fear of embarrassment and lost sales. But providing feedback is a defining characteristic of a customer evangelist. If it's done in concert with other customers, it's even better, because of the authentic and validating nature of a peer-to-peer setting. Customers who complain care enough about your product or service to register their deeply felt concern.
In addition to real-time feedback, gather feedback from attendees immediately after the event. And when we say immediately, we mean it. If the event ends at 5 p.m., e-mail attendees at 5:01 p.m., asking them to a complete a short event survey. Ask a few simple questions: Would they recommend the event to a colleague? Yes, no, or maybe? Ask them to explain their answer and specify what they will tell others about the event.
10. Create Ownership
The highest level of loyalty is when customers say they have a figurative sense of ownership in the company. Your success becomes part of their personal responsibility.
One way to foster ownership is to invite customers to join an event council. We typically see that a small, 10-person customer advisory board is the only group of customers with input. But why not invite several hundred attendees to join an online council? Put aspects of your event up for discussion, debate, and perhaps a vote.
Members of the council can be involved in both event planning and post-event improvements. With such a large group, you won't attain consensus, but you will have a stronger idea of what customers want. Your event becomes about them, not just you. Customers will reward your work with loyalty, improved word-of-mouth, and stronger referrals.
If you follow through on a combination of these ideas, you should be on your way to creating more evangelists and nurturing that highly elusive sense of customer ownership. e