onsultant and author Doug Kaye approached event producer O'Reilly Media in early 2004 with a radical idea: He would attend the company's Emerging Technology conference and record the presentations given there. Then he'd post the recordings on his new IT Conversations Web site for anyone to download — for free.

He got a skeptical reception, to say the least. Event organizers spend a lot of time and money on developing and delivering conference content. Attendees pay good money to hear top speakers. The conference team couldn't see how any good could come to O'Reilly from giving away all that content.

But Kaye had a good reputation and friends at O'Reilly, so the company ultimately relented. Kaye could record, they said, but he had to sit in the back of the room. What's more, he couldn't tell anyone in advance what he was doing. Organizers didn't want to risk an attendance dip, due to would-be attendees opting out of the conference in favor of Kaye's online overview.

Kaye did as he was told — and got lucky. One of the speakers was Joe Trippi, fresh from his role as manager of the Howard Dean presidential campaign. Trippi gave his first account of the campaign's online strategy, and Kaye was the only person who recorded it.

The recording that Kaye posted on IT Conversations was downloaded by the thousands. And then something remarkable happened. People began calling O'Reilly to register for the next year's conference, and to learn more about other events the company organized.

O'Reilly, which had fretted that giving away its content would hurt attendance, discovered that the opposite was actually true.

Since then, Kaye and his associates have recorded nearly every O'Reilly event, along with dozens of other conferences. Kaye was a pioneer in a revolution that is sweeping the technology events industry. Corporations are increasingly using event content to market their customer events, in effect giving away the product attendees pay for. In some cases, they capture sessions as digital audio and video recordings and give them away online for promotional purposes. Or they recruit speakers to contribute to blogs and promotional podcasts, summarizing their presentations.

It turns out that the marketing benefits far outweigh the loss of the tiny revenue stream that organizers traditionally made from selling conference proceedings. Furthermore, event marketers are finding that giving away content actually delivers a more qualified and satisfied audience. Sponsors like it because their messages can live year-round next to relevant information. Speakers like it because it delivers up to 100 times the total audience as their live presentations. And prospective attendees like being able to check out events before plunking down a credit card.

Is an Event Blog Right for You?

New media such as blogs and podcasts can revolutionize your event marketing strategy, and the price tag is lower than ever. Most Web-hosting services support blogging software and can add a blog to your event site for a small fee. The costs of hardware, software, and networking bandwidth have plummeted over the last five years. Sites like YouTube, Revver, Blogger, Flickr, and Blip now give away services that would have cost thousands of dollars during the dot-com bubble. What's more, search engines make it easier than ever for people to find your event.

In the technology and marketing industries, event blogs are now common. Event marketers typically use them to accomplish three key functions: to promote event content, to build anticipation for the event, to keep attendees informed about the event, and to build community.

When I speak at conferences these days, organizers typically ask me to contribute to a blog about 500 words of advice or an opinion on a topic that's relevant to my presentation. Or they might ask me to answer three questions or debate a topic with another speaker. Often they don't even edit my copy; I get logon credentials and can post whenever I wish. My words live on long after the event is over, giving me visibility and the organizer another way to be found on search engines.


BlogHer Inc., a community for female bloggers, is an innovator in using blogs to promote its events. Begun in 2005, BlogHer's blogs have become such a hive of activity that it's become difficult to tell if the blogs support the conference or vice versa. No matter: The annual event is in its fourth year, with steadily increasing attendance, and BlogHer has added a business conference and a six-city mobile event called the BlogHer Reach Out Tour.

BlogHer has a blog devoted specifically to its events, where the company's founders, contributing editors, conference speakers, and event attendees post year round. BlogHer uses the blog to announce news about the event, such as the schedule of events, featured speakers, and special activities. It also uses the blog to request input, such as ideas for future topics, speakers, and case studies, and even holds a vote on the blog each year to determine the location for the next event.

Speakers use the blog to introduce themselves and their topics, continue discussions with attendees, and provide additional information. Attendees post comments about sessions they attend, along with suggestions, questions, praise (including one post entitled, "Oh BlogHer, I Want to Marry You and Have Your Babies"), and complaints. Attendees also volunteer to "liveblog" each of the sessions, writing blog posts that summarize the content while they attend the session. One contributing editor also posted video blogs of the 2007 conference, including video of session content and interviews with attendees and speakers.

Building a Better Blog

Before starting your own event blog, pay attention to the following tips:



Start early. It generally takes less than a week for a search engine to find your blog, but the longer you sustain the effort, the higher you move in search results. Get at least a four-month head start.



Use RSS (Really Simple Syndication) feeds. RSS feeds allow subscribers to easily be notified when new content posts to Web sites or blogs they frequent. Not only do RSS feeds make it easy for potential attendees to receive updates, but some search engines now index, or record, RSS feeds exclusively. Google Blog Search, for example, will index your updates just minutes after they go online. Most commercial blog services offer RSS as a standard feature, but you may have to turn it on through the administrative control panel. You also may need to manually add an RSS link to your site. Again, this is easily done through the control panel.



Encourage all your speakers to contribute. Offer links back to speakers' blogs and Web sites as incentives. Include photos. The visibility really is a benefit to them.



Incorporate video and audio. A series of short, focused audio or video podcast interviews is a great accompaniment to a blog.



Give your top sponsors a piece of the action. Include their logos and downloads in the sidebar to the blog. You can even charge them for it.



Tag, or categorize, your content. This makes it easy for visitors to group articles of interest and for search engines to find you.



Offer "widgets" or promotional logos. Attendees and speakers can download and post these digital medallions on their own blogs to promote their attendance or involvement with your conference. Make sure widgets link back to your event site.

Podcast Proficiency

You don't need to be a professional sound engineer or a techie to produce interesting audio promotions. With an Internet connection, a microphone, and some free software, you can start podcasting.

Podcasts are like radio programs that are recorded digitally and posted on a Web site for people to download and either listen to at their computers or take with them on their portable music devices. The name is derived from Apple's iPod media player, but the reality is that more than 70 percent of podcasts are listened to at a desk.

Podcasts can be used to whet an audience's appetite before an event or to play back recordings of previous sessions. Podcasts are usually recorded as a Q&A or talk-show format with a host and one or more guests. If your time-pressed speakers can't contribute to the conference blog, they may consent to a short podcast interview instead.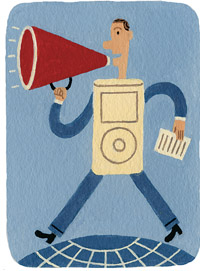 Like blogging, podcasting can be implemented very inexpensively. Services like Skype offer low-cost or free phone calls for recorded interviews and inexpensive software like HotRecorder and MX Recorder can capture those conversations as digital files. Then you can download free software like Audacity or GarageBand to edit and export your programs to MP3 format.

If you're a little more ambitious, it's not too much of a stretch to add video to the mix. International Data Group's Demo Conference, for example, features dozens of six-minute presentations by executives of interesting start-up companies. The videos are posted on a dedicated Web page within 24 hours, where they're accessible to the media, customers, and investors.

Here are some tips to keep in mind for audio or video podcasts:



Keep it brief. While conference-session podcasts may be allowed to run their full length, promotional podcasts are best kept to 15 to 20 minutes.



Have fun with the format. A straight Q&A can get boring, so experiment a little. Try "Five Questions With … ," "Pro and Con," or a roundtable with more than one speaker. Or try a flash format: The speaker has to answer two questions in less than three minutes.



Create one or more themes, and organize your podcast library by topic. Themes help your listeners decide which podcast to choose. Each series should have accompanying notes about the individual programs and links to the audio files. These are called "show notes" and are an essential Web companion to the podcasts.



Start early and post new programs regularly. Launch your podcast series at least four months before the event, and stage new programs every couple of weeks to build a sense of excitement.



Offer event-registration discounts to podcast listeners. This is an excellent way to build word-of-mouth marketing as listeners tell colleagues about the benefits of tuning in.



Use a simple URL. Remind listeners at the beginning and end of every podcast that they can learn more at the conference. Because listeners may be tuning in on portable devices, keep Web addresses as brief and memorable as possible.

Whether you choose to start simple with a basic blog or build a full multimedia online presence for your event content, you're sure to reap the rewards at your face-to-face events. Remember, event content is only valuable when people can hear it, see it, and interact with it. Unlock your event content online, and experience the free flow of new attendees in person. e