Unit 18, Mowlem Trading Estate, Leeside Road
London, N17 0QJ United Kingdom


Phone:
+44(0)208 803 4469
Email:
sales@tecnadisplay.com
Web:
www.t3systems.com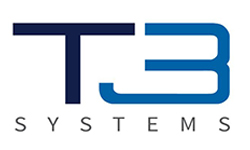 Company Description
T3 Systems is manufactured, distributed and owned by Tecna Display Ltd, based in London. We have developed into one of the market leaders in the supply, design and manufacture of Modular Display Systems.

Modular display companies, exhibition, display and interior contractors around the world are using T3 systems to build dynamic structures and display environments for exhibition stands, graphic displays and signage, conferences, events, museums and retail interiors.

Our core product philosophy is Twist - Lock - Connect. All products manufactured and designed by Tecna Display Ltd are Tool - Free solutions resulting in ease of storage and transport, design flexibility and speed of assembly.
Send a Quick Message
Follow Tecna Display Ltd on...
Company Catalogs/Literature
As seen at EXHIBITORLIVE 2019
See us at EXHIBITORLIVE 2020, March 29 - April 2, booth #1277
Customer Testimonials
Zdenko Sudek, Director of T3Works - "Offering T3 solutions has changed our business into a unique company in the market. It is the best modular system in the world and that helps to sell this product to our clients."

Rick Olson, President of Olson VIsual - "We order every month from T3 Systems because we continue to develop markets that find our products compelling. T3 has given us the ability to compete with much larger exhibition and event firms, winning contracts with innovative and efficient products that take less time to produce, ship and assemble."

Virginie de Neuville, Founder of Deleage - "Our customers regularly congratulate us on our productions with the T3 solutions. It has greatly increased the demand for modular construction in the field of stand or events, which has therefore increased turnover and allowed us to make additional sales."