400 N. High St.
Columbus, OH 43215


Phone:
614-827-2500
Email:
anash@columbusconventions.com
Web:
www.columbusconventions.com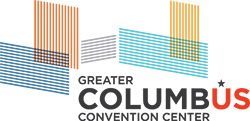 Company Description
Featuring 373,000 contiguous square feet of exhibit space, 75 meeting rooms, and three ballrooms totaling 114,000 square feet, the Greater Columbus Convention Center is home to the largest contemporary collection of central Ohio art. Located near John Glenn Columbus International Airport and across the street from entertainment districts, the convention center is within a 90-minute flight or day's drive of nearly half of the nation's population. It is also connected to multiple hotels and more than 4,000 parking spaces, with real-time parking availability displayed on the facility's website. In 2020, the Ohio Center Garage will add 650 additional parking spaces, followed by the Hilton Columbus Downtown's expansion to 1,000 rooms, making it the largest hotel in Ohio in 2022. Additionally, Levy's Smartfarm, an indoor vertical hydroponic garden, grows 2.5 tons of vegetables and herbs annually, which the Greater Columbus Convention Center catering team uses in its culinary creations. The facility is KultureCity Certified Sensory Inclusive.
Send a Quick Message
Products and Services
Customer Testimonials
"The convention center is honestly a dream layout. So easy to navigate, no ups and downs anywhere - just great space in a great configuration. Bravo!"
- Amy LeDoux, Senior Vice President for Meetings, Expositions &Events, American Society of Association Executives