125 Church Street, Suite 320
Marietta, GA 30060


Phone:
678-331-3800
Toll-Free:
800-775-8365
Fax:
678-331-3888
Email:
sales@blueskyexhibits.com
Web:
www.blueskyexhibits.com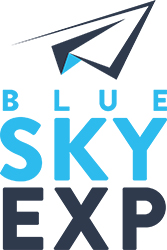 Company Description
Blue Sky Exhibits has taken a fresh approach to tradeshow marketing by setting precedence on three core values; relationship, value and creativity.

We place relationship at the foundation of our values because we believe that our clients are entrusting us with something paramount ... their brand. A client's brand is the most important belonging they possess, by remaining mindful of the importance of what we've been entrusted with, we serve our clients unlike anyone in the industry. Blue Sky Exhibits understands that value is key. We believe that value is not provided by cost effectiveness alone, but by the quality of service provided.

Our passion for the work that we do is best displayed in our last remaining core value, creativity. Innovative and detailed, our team hones in on the vision for each project and excellently conveys it to reality.

Partnered with Blue Sky, possibilities are endless.
Send a Quick Message
Follow Blue Sky Exhibits on...
Products and Services
Company Video
Customer Testimonials
"Blue Sky's work has been a major factor in our tradeshow success, helping us to become the industry's leader in promotional apparel. I can confidently recommend Blue Sky Exhibits as a solid and reliable partner and expert in their field." John Lindgren of SanMar

"Blue Sky developed a new look which perfectly portrays the image and brand of CryoLife. The new design is sleek, contemporary, and easily modifiable for our changing goals and objectives. The properties are smaller and weigh significantly less than our previous booth. This has saved us thousands in transportation and drayage costs, in turn making us look like superstars. Thanks for propelling us to superstar status!" Basil Beighey of CryoLife