PO Box 12780
Chandler, AZ 85248


Phone:
480-684-1000
Toll-Free:
877-507-1444
Fax:
877-373-8709
Email:
andrew@avdimensions.com
Web:
www.avdimensions.com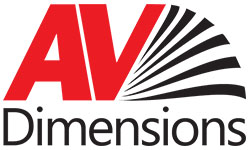 Company Description
AV Dimensions is a full-service AV & Lighting provider with extensive industry experience. We do more than simply fill orders, we provide expert guidance and support from concept to completion. We make recommendations for what will work best for various areas of a project so the final result is exactly what the client wants. We match personnel and technical skill levels to each project ensuring each project has the resource mix it needs to be successful.

We provide ideal technology solutions for engaging presentations through a commitment to excellence and dedication to client success. We utilize a variety of display solutions including Christie MicroTiles, Thin Bezel Video Walls Displays, LED and Projection.

Exhibit and Design producers, Tradeshow/Event Managers, and Meeting Planners all use our technical and procurement expertise to create engaging tradeshow, corporate meeting and event displays.

Proactive planning. Solid execution. Awesome results.
Send a Quick Message
Follow AV Dimensions, Inc. on...
Products and Services
Company Video
Customer Testimonials
"The AV Dimensions team did an incredible job. Thank you for your flexibility and agility and getting this amazing project done. Your efforts and delivery are world class!" - Eric Johnson, President, Ignited

"Once again, you have proven to be a true partner for us and we sincerely appreciate the effort." "You were a true pleasure to work with - my crew and my client were both very happy with your technical expertise" - Raytheon Intelligence and Information Systems, Melissa Levesque, Account Executive, Global Experience Specialist

"The AV Dimensions team are stellar in their expertise and committed to delivering a quality product and service. I would not go to anyone else and know Activision will deliver an awesome presence with their partnership on our booth. They are one of the top agency partners I worked with during my tenure at Activision." - Denise Walsh, VP of Marketing Communications, Activision