720 Hylton Road
Pennsauken, NJ 08110


Toll-Free:
888-AFR-RENT
Fax:
856-488-5105
Email:
events@rentfurniture.com
Web:
www.afrtradeshow.com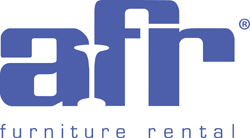 Company Description
AFRŪ Trade Show Furnishings provides you with distinctive collections, quality products and a promise of service satisfaction. We are an industry-leading provider of stylish, quality furnishings and accessories for your next conference, meeting, tradeshow, or event.

Our unwavering commitment to excellence of service means that our team of professionals will work side by side with you to create innovative solutions that present your brand or event in it's best light. With our flexible and superior quality inventory of sleek furnishings and team approach to every project, we promise you satisfaction of service.

With major warehouse locations in major cities and regional operations throughout the nation, AFR can partner with our clients anywhere, any time. We provide delivery on demand; 24 hours a day, 7 days a week, 365 days a year.
Send a Quick Message
Follow AFR Furniture Rental on...
In the News
Products and Services
Company Video
Company Catalogs/Literature
As seen at EXHIBITORLIVE 2019
See us at EXHIBITORLIVE 2020, March 29 - April 2, booth #1201