518 Davis Street, Suite 201
Evanston, IL 60201


Phone:
312-787-4800
Fax:
312-237-3500
Email:
info@livemarketing.com
Web:
www.livemarketing.com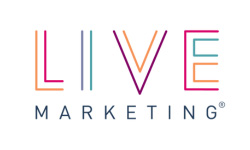 Company Description
As an award-winning agency, we develop and deliver trade show and event strategies (live + digital). For 40 years, Live Marketing has produced experiences that create consistently dramatic results for our clients from start-ups to flagship brands in all verticals.

Live Marketing's Digital division is focused on combining live engagement + digital solutions for the trade show floor. We have something for everyone - from our 'off-the-shelf' Brandable line of games, photo apps, surveys and detail aids, to our Bespoke level of custom-designed solutions, to our BetaLab ideas, Live Marketing's next-gen experiential think tank.

Contact us to learn how we can supercharge your next trade show or event with our live engagement programs + digital solutions.
Send a Quick Message
Follow Live Marketing on...
In the News
Products and Services
As seen at EXHIBITORLIVE 2018
See us at EXHIBITORLIVE 2019, Feb. 25 - 27, booth #1761
Customer Testimonials
"Bringing Live Marketing into our event program has taken it to a whole other level. Thank you for the unshakeable can-do attitude, the creative/imaginative problem solving skills, the constant moral support, the highest level of integrity, and the feeling of confidence you give us by knowing you are there to help us make our vision reality. Live Marketing has made the difference in our program!"

"Live Marketing helped to establish measures that are meaningful; especially to senior management, to justify our ROI and drive business equity for all of our brands."

"Live Marketing developed several innovative strategies that helped us create brand impressions, deliver in-depth messaging, and engage and qualify prospects. We exceeded our objectives in every area!"

"We really enjoy working with you and the whole crew at Live. Every step of the way is executed so professionally and you make it really easy for us. We never worry when we're working with Live!"