1417 Dutch Valley Place, Suite A
Atlanta, GA 30324


Phone:
404-233-4644
Toll-Free:
866-238-9349
Fax:
888-607-7205
Email:
sjustice@cmtagency.com
Web:
www.cmtagency.com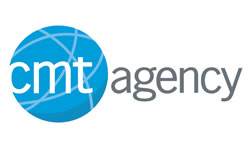 Company Description
CMT Agency is the leading global provider of tradeshow and event staffing.

CMT recruits, trains and hires only the highest quality talent.

Rely on CMT agency to provide a wide range of talent for your next tradeshow.

Booth Staffing, Corporate Presenters, Crowd Gatherers, Demonstrators, Fitness Models, Hospitality Staffing, Host/Hostesses, Interpreters, Lead Generators, Product Specialists, Receptionists, Sales Assistants, Survey Takers, Translators, Treadmill Models, Ultrasound/Heart Monitor Models

There's no need to incur travel expenses and deplete your in-house team when you can staff up locally at your event--anywhere around the world. Our talent is attractive, articulate and professional. They take pride in learning about your products and event objectives in advance, and many have degrees or relevant industry experience that allows them to be true extensions of your sales team.
Send a Quick Message
Follow CMT Agency on...
Company Video
Customer Testimonials
"I just wanted to email you and let you folks at CMT know how extremely pleased we were with the four women who worked our booth at IBS last week. Crystal, Kelly, Nicole and Elizabeth were all really great. They took direction very well and made my job that much easier at the event. It's the first year I can recall where I received several comments from folks working the booth as to how much improved they were over the talent we had at last year's show. They really represented both your company and ours very well."
-R.L., Bosch

"I wanted to take the time to acknowledge the high level of professionalism exhibited by the two CMT agents you assigned to support the AstraZeneca Booth at Pri-Med New York this past weekend, Cari and Nicole. Both young women were enthusiastic and hard working. They exceeded my expectations. Additionally, a few of the sales representatives working in the booth made a point of acknowledging Cari and Nicole. I would welcome the opportunity to work with these women again."
-H.E., CTSM, Evolution Medical Communications (on behalf of AstraZeneca)

"I received very good feedback about the talent that we booked for CMT Agency in Tokyo. She was fluent in Japanese and the people were very impressed since she was Russian. She did very good translating and demonstrating the products. Thank you for your services and I definitely look forward to working with you at my next meeting."
-A.P., Dale Medical Products Inc.