7120 Brittmoore, Ste. 430
Houston, TX 77041


Phone:
713-856-8853
Fax:
713-856-8854
Email:
pswords@ExcaliburExhibits.com
Web:
www.ExcaliburExhibits.com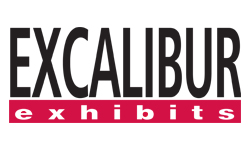 Company Description
Excalibur Exhibits is a single-source tradeshow and event-marketing firm specializing in face-to-face marketing solutions for 3-D environments including tradeshows, exhibitions, corporate events, conferences and permanent installations. From award-winning custom booth design to international tradeshow management, Excalibur Exhibits creates memorable environments that make big impacts and show a measurable return on investment.

We offer a full range of strategically focused design-build, rental and event management services coupled with a process-driven integrated marketing approach to ensure our clients achieve success. We integrate our services to provide seamless results that are delivered on-time and in-budget.

We cultivate long-term relationships with our clients, listen to their goals and help them develop creative, objective-based programs that deliver results. Together, we transform marketing objectives into 3-D environments that entice, communicate and sell.
Send a Quick Message
Follow Excalibur Exhibits on...
In the News
RFID boosts tradeshow ROI
RFID improves ROI If you aren't using RFID technology in your tradeshow booth, conference or other large gathering, you're most definitely missing out…missing out on capturing a lot of invaluable information. For instance, wouldn't you like to know who's in your booth, how long are they staying, what parts of your booth interest them the …

Breakbulk Showcases Shipping, Cargo
Excalibur Exhibits showcased our shipping and cargo know-how at one of the largest exhibitions in the Americas—Breakbulk Americas.

Excalibur Exhibits is Now a '10,000 Small Businesses' Company
Excalibur Exhibits, a Houston-based full service tradeshow and event marketing firm, is now a Goldman Sachs "10,000 Small Businesses" company.

Tradeshow mishaps can be fixed
Wise tradeshow exhibitors know to plan for the "whatever," just in case a mishap occurs. Take a look at these inventive solutions.

Tradeshow Mishaps Are Solvable
If something can go wrong at a tradeshow, it most likely will. Clever exhibitors plan for mishaps and find ways to work around issues. Take a look at how these tradeshow mishaps were resolved.

Products and Services
Company Catalogs/Literature