10810 West Little York, Ste 100
Houston, TX 77041


Phone:
713-856-8853
Toll-Free:
844-298-2732
Fax:
713-856-8854
Email:
pswords@ExcaliburExhibits.com
Web:
www.ExcaliburExhibits.com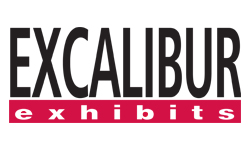 Company Description
Excalibur Exhibits is an experiential tradeshow, event-marketing, and architectural millwork firm specializing in face-to-face marketing solutions. From award-winning custom booth design to international tradeshow management, Excalibur Exhibits creates memorable environments that make big impacts and show a measurable return on investment.

We offer a full range of strategically focused design-build, rental and event management services coupled with a process-driven integrated marketing approach to ensure our clients achieve success. We integrate our services to provide seamless results that are delivered on-time and in-budget.

We cultivate long-term relationships with our clients, listen to their goals and help them develop creative, objective-based programs that deliver results. Together, we transform marketing objectives into 3-D environments that entice, communicate and sell.
Send a Quick Message
Follow Excalibur Exhibits on...
In the News
Brand Activation
Experiential marketing used to be the big marketing buzz theme. Now we have "BRAND ACTIVATION." Are they really that different? Understand the deadlines.  Well, yes and no. Experiential marketing is a technique used in brand activation. Experiential marketing (also known as engagement marketing) is a live event where customers and brands connect one-on-one. The goal …

Last minute trade show? Don't freak out..here's why
"Don't freak out." That's what you keep telling yourself about this upcoming trade show that was flung on you at the last minute. Maybe your boss blindsided you with it this morning. Maybe someone registered and forgot about it. Maybe Janice in marketing just put the wrong date on the calendar. Doesn't matter. You've got …

Exhibits&Expenses: Rigging it so you win!
For most exhibitors, hanging signs and lighting are an essential part of their design and help them attract their ideal prospects. Without hanging signs, your customers and prospects may end up somewhere else and never find you. When lighting or signage needs to be hung, it almost always must be handled by the show staff …

The 2019 Offshore Technology Conference (OTC)
The progress of energy and how you can take advantage of this dynamic conference. It's getting to be that time of year, and we're not talking about the holidays. We're talking about the Offshore Technology Conference (OTC) in Houston, TX.  The 2019 conference will be held from May 4th through May 9th at NRG Park. …

Exhibit Design Companies — Their Interpretive Process
In the sea of exhibits, how do you stand out? We'll bet you've heard this question a time or two. We certainly have. But, what if it's the wrong question? And really, it is. Because exhibiting isn't about having the coolest booth or greatest entertainment. It's about relationships. It's about the face-time you get with …

Products and Services
Company Catalogs/Literature