891 Trademark Drive
Reno, NV 89521


Phone:
775-829-7272
Fax:
(775) 201-7200
Email:
info@standoffsystems.com
Web:
www.standoffsystems.com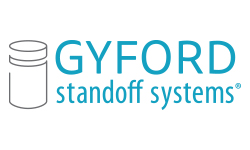 Company Description
Gyford StandOff Systems designs and manufactures StandOff, rod and wire mounting hardware for trade show exhibits and other displays and signage.

Shop a wide selection of mounting hardware and contact on-site design support for help with project planning.

Made in the USA.
Send a Quick Message
Follow Gyford StandOff SystemsŪ on...
In the News
Products and Services
Company Video
Company Catalogs/Literature
As seen at EXHIBITORLIVE 2019
See us at EXHIBITORLIVE 2020, March 29 - April 2, booth #1165
Customer Testimonials
"I have been recommending and using your product for just around 20 years. We began to use them for all kinds of applications and they were a hit." - Gene, Exhibit Tree

"I have done business with you before, but this online catalog and your ordering system is phenomenal!!! I was worried that it might take longer to get an account set up so I could use your online ordering and I have NEVER had such wonderful service and ease in placing an order as I just did!!!" - Anne, Lockheed Martin

"Thanks for all your help in getting us the product we needed. All the StandOffs are in place and everything worked out fine. Again thanks for your professional and prompt response time. Looking forward to working with your company in the future." - Tim, Bradco Welding and Fabrication