110 E North Ave
Carol Stream, IL 60188


Phone:
630-580-5840
Toll-Free:
800-832-5331
Fax:
630-580-5843
Email:
jim@advantagetrailer.com
Web:
www.advantagetrailer.com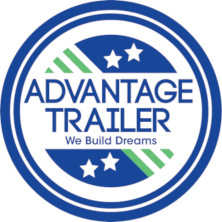 Company Description
Trailer has worked closely with a number of Fortune 500 companies and entrepreneurial start-ups to develop mobile marketing solutions that widen the exposure of your brand or product. We have a number of standard options and are also equipped to fully customize a solution to meet your unique needs.

A stage trailer makes a warm and welcome entrance while maximizing the display space available. We are also capable of installing customer supplied adhered graphics to 'skin' your trailer in all the ways that will make your campaign meaningful and unforgettable. A tour with a marketing trailer can also provide valuable information to a potential customer.

Take a look at some of our galleries and you will be amazed and the ideas that we can turn into reality. We can build a full selection of trailers from mobile marketing, custom stage trailers, Road Show trailers as well as high-end consumer experience shows.
Send a Quick Message
Follow Advantage Trailers on...
In the News
Mobile Kitchen Trailers for Your Food Truck Business
Foodtrucks and concession stands are becoming more and more popular asentrepreneurs seek ways to get their culinary creations to the public. Unlikerestaurants, mobilekitchens over low overhead costs and can be transported toany popular location so that you never miss out on the crowds. Howeve...

Bartlett Little League uses Advantage trailer for Wood Bat Blast tournament headquarters
The weather was far from cooperative, but the Bartlett Baseball Sports Association and Bartlett Little League held their annual Wood Bat Blast Tournament this weekend with nearly 60 teams from throughout Chicagoland and Advantage Trailer was happy to support.When Paul Williams, director of Bartlett...

Advantage Spotlight: Special projects tech Paul Caruso celebrating 20 years at Advantage!
Paul Caruso is our resident jack of all trades and is celebrating 20 years at Advantage Trailer today. We spent some time with Paul as he worked on one of his many trailer fabrication projects so that you can get to know him.The dedicated father of three is married to Julie and did security and ala...

Advantage supports local praise dancer's quest to repeat at Rhythm of Gospel Music Awards
Charlene Rush isn't your average 20-year old. The local college student is an award-winning gospel dancer and Advantage Trailer is proud to support her trip to the 2019 Rhythm of Gospel Music Awards Show in July. Charlene is the choreographer of St. John Divine Praise Dancers located in Joliet,...

Fort Worth Metro Ministry Using Trailer to Bring Hope to the Forgotten
When you have been in the trailer business for 30 years youhave seen trailers used in hundreds of different ways. This may be the mostimpactful. The Calzada family in Fort Worth, Texas is using a 24-footstage trailer to bring hope and resources to families in need and has servedthousands of pe...

Products and Services
As seen at EXHIBITORLIVE 2019
Customer Testimonials
The trailer is perfect. This is just what our engineering department needed for their special project.
- Purchasing Agent, Northwestern University, Ford Motor Engineering Design Center

THANK YOU ONCE AGAIN AND PLEASE GIVE JIM MY REGARDS FOR WORKING WITH ME AND MAKING IT POSSIBLE FOR ME TO HAVE THE BEST TRAILER IN AUSTRALIA. (With Alex's ideas we had ATC build a custom toy hauler that included all solid wood cherry cabinets, dinette and bed set.)
- Alex & Sheryl, from Tully, North Queensland, Australia

"Wow this trailer is everything and more than I expected. You guys really know how to build custom marketing trailers."
- John from Chicago

We love the trailer. It's exactly what we'd hoped for! (Advantage designed and ATC built a custom stage trailer for marketing at outdoor special events.)
- Time Warner Cable