110 E North Ave
Carol Stream, IL 60188


Phone:
630-580-5840
Toll-Free:
800-832-5331
Fax:
630-580-5843
Email:
jim@advantagetrailer.com
Web:
www.advantagetrailer.com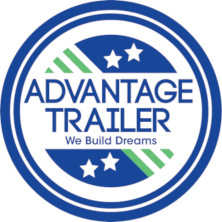 Company Description
Take your marketing on the road. Advantage Trailers has worked closely with a number of Fortune 500 companies and entrepreneurial start-ups to develop mobile marketing solutions that widen the exposure of your brand or product. We have a number of standard options and are also equipped to fully customize a solution to meet your unique needs. A stage trailer makes a warm and welcome entrance while maximizing the display space available. We are also capable of installing customer supplied adhered graphics to 'skin' your trailer in all the ways that will make your campaign meaningful and unforgettable. A tour through a marketing trailer can also provide valuable information to a potential customer.

Take a look at some of our galleries and you will be amazed and the ideas that we can turn into reality. We can build a full selection of trailers from mobile marketing, custom stage trailers, Road Show trailers as well as high-end consumer experience shows.
Send a Quick Message
Follow Advantage Trailers on...
In the News
Build Brand Awareness with a Mobile Marketing Vehicle
Creating brand awareness is perhaps the most important partof building a successful, lasting business. In today's world, brand awareness involvesboth the real world and the digital spaceand should be cultivated across multiple platforms to achieve the best and mostcomprehensive results. One of...

Know This Before Buying a Mobile Concession Trailer
If you're interested in mobile concession trailers, then you probably havea specific goal you are reaching for. Whether you want to premier your ownunique culinary genius or bring a little joy to the people of your community,finding the right venue is important. To make sure you're getting the ri...

Benefits of Custom-Built Mobile Offices
Fordecades, mobile officeshad predominately been used at construction sites and disaster scenes. Today, mobile offices are foundin a wide range of industries—and they are far more advanced than every before. With acustomizable mobile office,you can add options and features that your business...

Custom Emergency Response Trailers for All Disaster Response Needs
If you have an emergency response or disaster recoverysupport team, you need a mobile unit to serve as a central location on anyscene. However, you shouldn't have to settle for a standard trailer and dealwith the extra work of customizing it for your unique needs. Fortunately, whenyou come to Ad...

High-Quality, Custom Car Haulers
When you're looking for car hauler trailers that offer exceptional performance and a sleek, stylish design, look no furtherthan the professionals at Advantage Trailer. We understand that everyone hasdifferent needs and styles, and we'll work with you to custom-craft a car hauler to your exact spe...

As seen at EXHIBITORLIVE 2018
Customer Testimonials
The trailer is perfect. This is just what our engineering department needed for their special project.
- Purchasing Agent, Northwestern University, Ford Motor Engineering Design Center

THANK YOU ONCE AGAIN AND PLEASE GIVE JIM MY REGARDS FOR WORKING WITH ME AND MAKING IT POSSIBLE FOR ME TO HAVE THE BEST TRAILER IN AUSTRALIA. (With Alex's ideas we had ATC build a custom toy hauler that included all solid wood cherry cabinets, dinette and bed set.)
- Alex & Sheryl, from Tully, North Queensland, Australia

"Wow this trailer is everything and more than I expected. You guys really know how to build custom marketing trailers."
- John from Chicago

We love the trailer. It's exactly what we'd hoped for! (Advantage designed and ATC built a custom stage trailer for marketing at outdoor special events.)
- Time Warner Cable