310 S. Broadway, Suite 101
Rochester, MN 55904


Phone:
763-498-6538
Fax:
763-498-6539
Email:
jnelson@ctsm.com
Web:
www.ctsm.com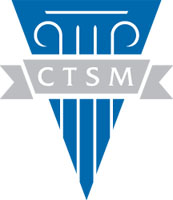 Company Description
A true learning focus. While many other certifications certify what a candidate already knows, CTSM requires a mandatory list of core classes, with balance in the subject matter to form a solid foundation of knowledge.

Credibility - CTSM is respected as the most prestigious designation in trade show and event marketing in recognition of its curriculum, and the component of translating classroom training into skills its candidates use daily in their jobs. The candidate portfolio, a skills demonstration project, describes the application of learned skills to the candidate's trade show program.

Customization - A learning plan is developed for each candidate taking into account whether he or she already has a marketing degree. Coursework options are also customized to integrate previous experience.

Flexibility - Progress toward certification is paced according to the candidate's job demands and available time. The curriculum is distributed among five conferences throughout the year.
Send a Quick Message
Follow Certified Trade Show Marketer (CTSM) on...
In the News
Customer Testimonials
"The CTSM Program has taught me how to budget our number, increase traffic to our booth, establish and not only meet our objectives, but raise the bar on our existing program. I would highly recommend this program to anyone who is involved in trade shows." Susie Brockman, CTSM, Marketing Lead, ORTEC Products, AMETEK