4740 Chudoba Pkwy.
Prince George, VA 23875


Phone:
804-862-4655
Toll-Free:
800-742-6275
Fax:
800-565-9506
Email:
emarquez@markbric.com
Web:
www.ISOframeExhibits.com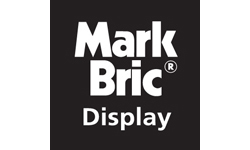 Company Description
Mark Bric Display's custom designers listen carefully in order to create stunning displays that are the best solution for your audience, your schedule, and your objectives.

Our world class collection of custom, modular and portable display and exhibit system products are easily reconfigurable and contain reusable elements so your display can evolve with you. Our product lines, suitable for retail, roadshow and trade show venues, encompass a number of brands which provide a complete program of reliable and economically priced products that are manufactured with the highest quality of workmanship, made of the best quality materials, and are subjected to demanding quality controls to provide years of trouble free use. We are guided by a no nonsense approach to customer service, just tell us what you need and we will get your message across with the best display choice for the job at the best price...all while providing the highest possible value for your money.
Send a Quick Message
Follow Mark Bric Display on...
In the News
Company Video
Customer Testimonials
"We couldn't have asked for a better Trade Show booth planning experience. Seeing first-hand how every detail from the sales department, to the designers, to the actual workmanship of the hardware and graphics was perfectly executed, I was just blown away! We would definitely recommend Mark Bric Display to other businesses given the awesomely positive experience we've had. You not only built for us a striking and impressive display but you also showed us how a professional company should treat their customers! Thank you!"
Sam Thatte
Sam Thatte Visual Communications

"We wanted to increase our presence and visibility at the various trade shows and community exhibits we attend throughout the year. This worked out far beyond our expectations! Our visibility blew past all other exhibitors to the point where we regularly receive recognition for our display and we even won an award for 'best use of booth space.'"
Steve Gay
Bank of Southside Virginia