1136 N. Garfield Street
Lombard, IL 60148


Phone:
630-629-9317
Toll-Free:
888-448-5402
Fax:
630-376-1563
Email:
marketing@ttskyline.com
Web:
www.ttchicago.com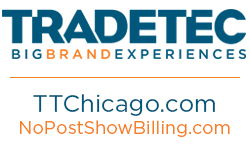 Company Description
TradeTec Skyline produces innovative trade show exhibits with unmatched service and a promise of NO POST SHOW BILLING. It is our daily goal to be the easiest company to work with in our industry. We build extended relationships that continue to thrive long after the event is over, the exhibit is dismantled, and the assets are carefully returned to storage.

TradeTec's promise of No Post Show Billing is unmatched in the trade show industry. We guarantee that your estimate is your invoice. Period. We feel that we are experts in this business and it's our job to anticipate and plan on behalf of our clients. This philosophy is not a promotion or a sale. It's just how we do business because we believe it's the right thing to do.

As an endorsed provider of Skyline products, TradeTec offers the highest quality modular exhibits as well as custom and hybrid solutions. Located just west of Chicago, TradeTec has served over 6,000 clients and completed over 35,000 projects worldwide.
Send a Quick Message
Follow TradeTec Skyline on...
In the News
Company Video
Customer Testimonials
"TradeTec consistently goes above and beyond to make sure every show we attend is a success. From designing the booth itself to the I&D teams they hire, the process is smooth and thorough. I never have to worry that something slipped through the cracks."
Mike Massimino, Marketing Specialist | ITW Construction, NA

"Our experience with TradeTec has been top notch. They have gone above and beyond with every engagement. They are extremely committed and passionate about what they do, and it shows in their overall effort, attention to detail and responsiveness."
Julia Vaughn, Marketing | MACH7 Technologies

"What has thrilled me most about TradeTec is their responsiveness, timeliness, product quality and ongoing communication."
Ray Strack, VP General Affairs | Mitsubishi Heavy Industries America, Inc.

"In the years I've been working with TradeTec Skyline, they have consistently delivered results beyond my expectations."
Gilian Gitchell, Marketing Specialist | INFINERA CORP.