7400 Metro Blvd, Suite 400
Edina, MN 55439


Phone:
651-796-3525
Email:
jonathon.nelson@modernpromos.com
Web:
www.ModernPromos.com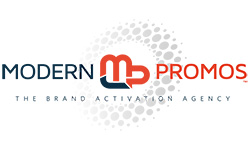 Company Description
Modern Promos is a strategic brand activation agency specializing in planning and activating impactful brand experiences.

Services & Capabilities:
+ Staffing
+ Street Team Marketing
+ Guerrilla/Grassroots Marketing
+ Event Activation
+ Product Samplings
+ Influencer Marketing
+ Sponsorship Activation
+ Market Research
+ 26,000+ Independent Contractors in the top 200 US cities: Brand Ambassadors, Field Managers, Retail/In-store Demo/Sample Staff, Mascots, Emcees, CDL Drivers

Feel free to reach out to us, for any questions, comments or just to say 'HI' - info@modernpromos.com. Visit www.modernpromos.com for more information.
Send a Quick Message