110 Spagnoli Road
Melville, NY 11747


Phone:
631-577-1100
Toll-Free:
855-577-1100
Fax:
631-577-1199
Email:
Info@gilbertexperience.com
Web:
gilbertexperience.com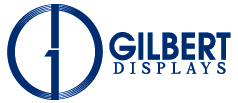 Company Description
Gilbert Displays was founded in 1986 with a vision of creating a unique marketing resource for companies that placed a premium on service. Our foundation was built upon long-term client relationships and our ability to exceed client expectations by providing superior service that is second to none.

Gilbert is a full-service, turnkey organization specializing in a broad spectrum of services related to brand-building, experiential marketing, and retail presence. Our tradition of excellence and our ability to adapt to any situation have given us a portfolio of some of the largest, most recognized brands in the world.
Send a Quick Message
Follow Gilbert on...
Customer Testimonials
"You guys delivered a solution that created opportunities for customers, business partners and LOBs to connect, engage and growth their relationships. I am so pleased with the results of VEW - more than ever - and I am honored to be a part of the team that is making this happen."
Tami Ortiz, VSP Global

"Boy oh boy the new booth looks amazing! Great job!! We really made a big splash!"
Kristine Urea, US Nutrition

"I want to thank you for a job well done before, during, and after NPE. We have been very busy following up on leads and we received our first order last week as a result of the show. We look forward to many more successful shows with Gilbert."
Mark Beagle, Canon Virginia Inc.