19801 78th Ave. S.
Kent, WA 98032


Phone:
206-607-0855
Email:
thomas@footprintexhibits.com
Web:
www.footprintexhibits.com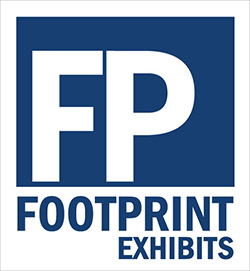 Company Description
Footprint Exhibits is an exhibit house known for our expertise in the design, print, build, and management of your trade show program.
We've recently increased our custom rental inventory and offer marketing services as an extension of your exhibit! Find out how we give you the tools to track your success in the trade show industry- we're in the business of helping your footprint grow.
Send a Quick Message
Follow Footprint Exhibits LLC on...
Customer Testimonials
Carol Andrufski
Our company worked with Footprint on creating a custom booth for the Seattle Home Show. From concept to final build, the Footprint team was there for every step of the process. They ensured we were able to meet all of our needs while staying within budget. We chose Footprint because they were the only full service company that could take ownership of every element of the project. Even more telling was the quality of craftsmanship with every detail on the display. Footprint has a talented crew and their passion for their work shows.

Mark Fery
Really great experience with Footprint Exhibits!! Exhibit came out perfect!! Thomas was extremely easy to work with and I hope to do business again soon! Thank you again!!

Emily Morris
The owner is very ethical, driven, and entrepreneurial. I highly recommend this company to set your business apart at your next conference. They can customize any kind of exhibit you would want to help you stand out and attract new customers.