9800 International Drive
Orlando, FL 32819


Phone:
407-685-9800
Toll-Free:
800-345-9898
Email:
exhibit.services@occc.net
Web:
www.occc.net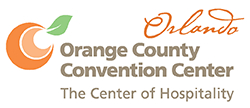 Company Description
The Orange County Convention Center (OCCC), located in the heart of the Convention Center District and only 15 minutes from the Orlando International Airport, provides a multitude of event options in two beautiful venues - the West and North-South Buildings. Both leadership and quality of service have made Orange County one of the most popular destinations in the world, not only for tourism, but also for meetings and conventions. As the second-largest convention facility in North America, the OCCC averages nearly 200 meetings, conferences, banquets, conventions, and trade shows that attract more than 1.4 million guests to the region each year. Committed to exceeding exhibitor expectations while providing engaging experiences for attendees, planners, exhibitors, and attendees alike praise the attention to detail provided by the OCCC. Additionally, the venue has achieved LEED Gold Certification and is dedicated to waste diversion, energy efficiency, and sustainability metrics that can help provide environmentally friendly event strategies.

The OCCC's Exhibitor Services team is known for offering the kind of comprehensive services that make trade shows successful, such as 24-hour power at no additional cost to exhibitors, aerial rigging and lighting, and cable TV services, as well as water, natural gas, propane, and compressed air. Plus, its providers and on-site business partners are skilled at making exhibiting within the facility as easy and efficient as possible.
Send a Quick Message
Follow Orange County Convention Center on...
Products and Services