202-420 Des Meurons St
Winnipeg, MB R2H 2N9 Canada


Phone:
877-526-7747
Toll-Free:
877-526-7747
Email:
inquiry@tradeshowinfotainer.com
Web:
www.TheInfotainers.com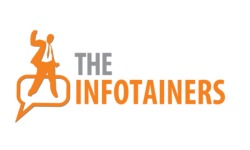 Company Description
The Infotainers are an elite team of lead generating trade show presenters who impact the profits of billion dollar companies like Micron, Fortinet, and Siemens.

Through Infotainment, a combination of highly interactive and engaging entertainment designed to communicate your company's value proposition, The Infotainers build crowds of interested prospects, convey your mission critical messaging and increase your leads by an average of 54%.

In addition to the in-booth presentations, The Infotainers will also train your booth staff on trade show best practices ensuring your frontline staff they are on point and ready to engage your booth visitors.

Need to train your internal staff on presenting? The Infotainers also train presenters with their Presenting For Profits Training.

If you are looking for a cost effective way to create on-demand lead generation at your live marketing events, call us at 1-877-526-7747 for more information.
Send a Quick Message
Follow The Infotainers on...
In the News
5 Must-Have Apps for Your Next Trade Show
The post 5 Must-Have Apps for Your Next Trade Show

Why Trade Shows Still Matter to Small Businesses
The post Why Trade Shows Still Matter to Small Businesses

5 Ways to Use Virtual Reality (VR) and Augmented Reality (AR) to Show Off Your Booth at Your Next Trade Show
The post 5 Ways to Use Virtual Reality (VR) and Augmented Reality (AR) to Show Off Your Booth at Your Next Trade Show

5 of the Best Ways to Attract & Engage Your Best Prospects at a Trade Show
The post 5 of the Best Ways to Attract & Engage Your Best Prospects at a Trade Show

Why Video is Essential for Your Next Trade Show Booth
The post Why Video is Essential for Your Next Trade Show Booth

As seen at EXHIBITORLIVE 2019
See us at EXHIBITORLIVE 2020, March 29 - April 2, booth #521
Customer Testimonials
"Anders is one of the all time best assets we have in our field marketing and trade show arsenal... In his hourly sessions, the booth is always packed, the audience was well engaged and our sales teams are better able to continue the conversations around technology once Anders sets up the prospects. The industry is very lucky to have a professional and highly energetic promoter of the business. We do not do a major show without Anders assisting us. I give Anders my highest recommendation."
Jim Tedesco
VP of Sales North America, Veeam Software

"We've been using the Infotainers for about two years now. And during that time, I would say that they have helped increased our booth traffic about 25% to 40% at every show we've had them at. So really enjoyed using them, it's been a great partnership, and we're looking forward to continuing in the future."
Robin Wiseman
Exhibit Manager, Extrahop Networks