2 Riverplace, Suite 200
Dayton, OH 45405


Phone:
310-254-4035
Email:
sandy@envu.com
Web:
www.envu.com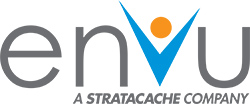 Company Description
enVu is a full service digital interactive media production company. enVu creates experience technology to transform events, retail, and environments, with captivating, shareable, digital interactive brand experiences. By seamlessly integrating brand storytelling with AR, VR, gesture, touch and mobile interactivity, enVu provides brands with immersive experiences to target, engage and influence consumer behavior.
enVu brings expertise to each stage of an interactive-media activation, from creative concept and design, through installation, launch and post launch support and reporting. enVu, is a wholly-owned subsidiary of STRATACACHE.
Send a Quick Message
Follow enVu on...
In the News
Products and Services
As seen at EXHIBITORLIVE 2018
See us at EXHIBITORLIVE 2019, Feb. 25 - 27, booth #1447