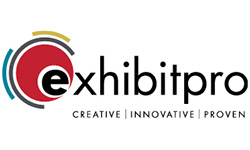 Exhibitpro


www.exhibitpro.net



Headquarters:

New Albany, OH


Founded:

1991


In-House I&D:

Yes


Rental:

Yes


Fabrication Space:

15,000 sq. ft.


Storage Space:

40,000 sq. ft.


Storage Facilities:

1


International Offices:

No


Recent International Experience:

Asia, Europe, Mexico/Canada



Breakdown of Business by Booth Size




Less Than 400 sq. ft.:

41-50%


400 to 2500 sq. ft.:

41-50%


More Than 2500 sq. ft.:

0-5%



RFP Contact:

Blake Miller, director of national accounts


RFP Email:

bmiller@exhibitpro.net



Company Description:

Exhibitpro is a full-service exhibit company that specializes in delivering face-to-face marketing engagements through trade shows, events, and branded environments. Founded by Lori and Ed Miller, this nationally certified woman-owned business utilizes a strategy-first approach to design, produce, and deliver engagements that exceed its clients' objectives — and stay on budget. Exhibitpro offers a robust suite of in-house services supported by a nimble and adaptable client care approach. This unique pairing differentiates Exhibitpro from its competitors and has been the catalyst for the company's growth and expansion. Exhibitpro takes a customized approach to service. From event strategy and exhibit design to client management, the company understands that every client, every challenge, and every show is different — and deserves to be treated that way. Exhibitpro is an expert in: creating solutions grounded in strategy; maximizing ROI; managing show service costs; maximizing impact on the show floor; managing sales leads; and providing unmatched account, logistics, and on-site management services.