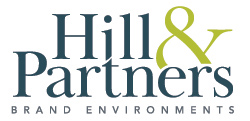 Hill & Partners


www.hillpartners.com



Headquarters:

Weymouth, MA


Founded:

1995


In-House I&D:

Yes


Rental:

Yes


Fabrication Space:

10,000 sq. ft.


Storage Space:

35,800 sq. ft.


Storage Facilities:

1


International Offices:

No


Recent International Experience:

Asia, Europe, Mexico/Canada



Breakdown of Business by Booth Size




Less Than 400 sq. ft.:

11-20%


400 to 2500 sq. ft.:

81-90%


More Than 2500 sq. ft.:

5-10%



RFP Contact:

Martine Pelletier, marketing coordinator


RFP Email:

mpelletier@hillpartners.com



Company Description:

Hill & Partners is an award-winning branded environment specialist, with a driven team of thinkers and doers who routinely perform miracles — while bringing brand experiences to life. The Hill & Partners team collaborates to transform spaces and places, making them completely about the client's brand. This is accomplished through creative insight, unparalleled attention to detail, and a relentless pursuit of perfection. Whether a client's program requires trade show exhibitry, corporate interiors, corporate events, or a unique combination, Hill & Partners does it all — on time and on budget, without exception. In addition to in-house design and fabrication services, Hill & Partners offers clients a robust rental inventory, in-house installation and dismantle services, and corporate event capabilities. In fact, in the past year alone, the company has executed VIP events, dealer/distributor events, private trade shows, product launches, and user conferences for a wide variety of clients.

More Info...