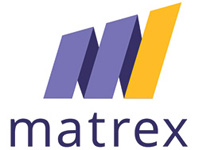 Matrex Exhibits


www.matrexexhibits.com



Headquarters:

Addison, IL


Founded:

1987


In-House I&D:

No


Rental:

Yes


Fabrication Space:

30,000 sq. ft.


Storage Space:

105,000 sq. ft.


Storage Facilities:

1


International Offices:

No


Recent International Experience:

Asia, Europe, Mexico/Canada



Breakdown of Business by Booth Size




Less Than 400 sq. ft.:

31-40%


400 to 2500 sq. ft.:

31-40%


More Than 2500 sq. ft.:

31-40%



RFP Contact:

Shana Liberman, director of strategy


RFP Email:

sliberman@matrexexhibits.com



Company Description:

Matrex Exhibits is one the largest woman-owned, WBENC-certified, full-service exhibit agencies in the United States. The company is the perfect size to be agile, yet fully expert. It has few layers of management, so bureaucracy and politics don't weigh its team down. It is privately owned, which means the company doesn't answer to a higher authority — it answers to its clients. Matrex Exhibits' earnings don't support a network, they are reinvested into the company. Headquartered in Chicago — with its corporate offices, workshop, and warehouse all under one roof — means team members don't need to call across the country to get answers. The Matrex Exhibits team talks face to face. Beyond trade show exhibits, Matrex Exhibits specializes in marketing opportunities where brands need to shine, such as corporate events, permanent installations, and retail pop-ups. The company accomplishes this with strong in-house capabilities in the fields of strategy, design, fabrication, engagement, measurement, rentals, and portables.

More Info...