EXHIBITORLIVE News
2/7/2019


The Experiential Designers and Producers Association (EDPA) will host a special cocktail event for members and prospective members on Tuesday, February 26th, from 5:30 to 7:00 PM, at EXHIBITORLIVE, The Professional Development Conference for Trade Show and Corporate Event Marketing, to be held in Las Vegas, February 24-28, 2019.

"This is a great opportunity for EDPA members and prospective members to get together and discuss the latest happenings in the world of experiential design," said Dasher Lowe, Executive Director, EDPA. "This organization has a long-standing culture of generosity, collaboration and giving back. I believe there is a bright future for the EDPA as we expand membership and take on new challenges. We invite anyone interested in learning more about the EDPA to attend this event."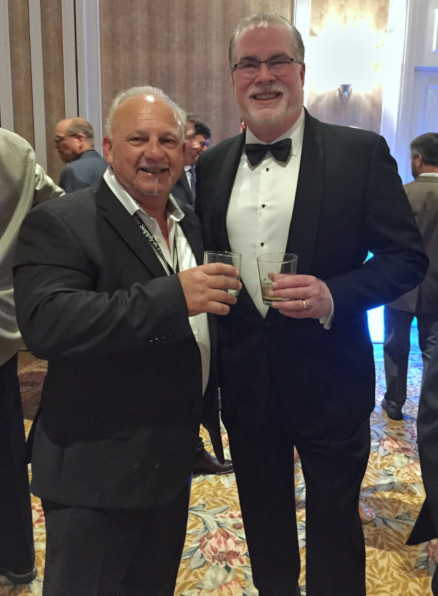 Current and prospective EDPA members are invited to mix and mingle! This event take place in the Connection Zone (next to the Exhibit Hall) immediately following EXHIBITOR magazine's Portable-Modular Awards ceremony.

"We are excited that EDPA is hosting this event at EXHIBITORLIVE," said Randy Acker, President & COO of Exhibitor Media Group. "EDPA is a very important part of the EXHIBITOR community, and the support of the EDPA Foundation has truly made a difference for exhibit design families and students across the country."

Attendees are encouraged to visit the EDPA University Affiliations Program booth #559 in the EXHIBITORLIVE Exhibit Hall to see the latest exhibit designs from students at the Fashion Institute of Technology (FIT) and Bemidji State University. For more information on the EDPA University Affiliations Program, visit the EDPA Member Blogs at www.edpa.com/member-blogs/.

EDPA will also highlight the Association and its members in booth #645 in the Exhibit Hall. Stop by and say hello!

EXHIBITORLIVE is the most comprehensive educational event for trade show and event marketing professionals, featuring 175 educational sessions and workshops. This event is attended by 5,000 exhibit and event managers, and marketing and communications experts who are serious about improving their face-to-face marketing performance. The Exhibit Hall at EXHIBITORLIVE presents North America's largest exhibition of trade show and event suppliers. For more information, go to www.ExhibitorLive.com.





About EDPA
Founded in 1954, The Experiential Designers and Producers Association (EDPA) is recognized internationally and serves thousands of professional members representing more than 300 corporations across 18 countries. Each year, the EDPA drives industry education programs and professional networking events through our regional chapters. We also bring together members and thought-leaders from around the world to ACCESS, the only industry association meeting and event of its kind. ACCESS provides a platform for prospective EDPA members and members alike to share and engage in programs and play at a professional conference unlike any other. More at www.EDPA.com.

About the EDPA Foundation
The Experiential Designers & Producers Association Foundation was formed in the Spring of 2001. It is a foundation led by executives from all segments of the industry that have a common goal: the heartfelt desire to reach out to our peers in their time of need. Since 2001, the EDPA Foundation has awarded more than 80 scholarships to students of industry families and provided 150+ industry families with financial and emotional support during times of hardship. The EDPA Foundation is proud to support the exhibit design programs at the Fashion Institute of Technology (FIT) and Bemidji State University. For more information go to www.edpa.com/edpafoundation.

About Exhibitor Media Group
The leader in trade show and corporate event marketing education, Exhibitor Media Group publishes the award-winning EXHIBITOR magazine, a monthly publication featuring best practices in trade show marketing. EXHIBITOR's learning events include: EXHIBITORLIVE, the professional development conference for trade show and corporate event marketers; EXHIBITORFastTrak accelerated learning conferences; and EXHIBITOR eTrak, professional online learning. Exhibitor Media Group is also the founder and sponsor of CTSM (Certified Trade Show Marketer), the industry's only university-affiliated professional certification program. Learn more at www.ExhibitorOnline.com.

EXHIBITOR is a registered trademark, and EXHIBITORLIVE, EXHIBITORFastTrak, and EXHIBITOR eTrak, are trademarks of Exhibitor Publications, Inc. in the USA and other countries. All company and/or product names may be trade names, trademarks and/or registered trademarks of the respective owners with which they are associated.




Contact:


DLowe@edpa.com