WEDNESDAY 3:45 PM - 4:30 PM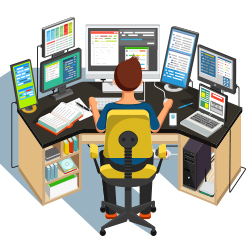 Track:
Management & Leadership
, Expanded Knowledge
NEW!
W454 45 Minute Session:
Emerging Trend: How the Hackathon Mindset Is Changing Brand Experience
High-level attendees expect face-to-face brand experiences to deliver value beyond what they can obtain online. This means that brands need to go beyond one-way information distribution and start creating engagements that inspire group collaboration and leverage peer-to-peer problem solving. This session will teach you the basics of hackathon-style approaches to exhibit and event engagement. Join us to:
• Discuss what a hackathon mindset is
• Participate in exercises to experience the value of a hackathon mindset for yourself
• Learn specific hackathon techniques that can be integrated into an event or exhibit experience
FACULTY:

Marc Pomerleau, global strategy vice president, FreemanXP

Marc Pomerleau is experience designer, fire-starter, trend-spotter, creative collaborator, inspirational speaker and vice president of global strategy at Freeman, the world's leading brand experience company. Marc builds capacity and will for the design and production of transformative, learning experiences and creates the code for catalyzing high performing teams and meaningful change. Marc holds an MA from SAIS in Washington DC and has attended Beijing University and the Stanford Center at Taiwan University.


Connect with Marc Pomerleau:



Additional sessions presented by Marc Pomerleau:

W405
The New Tribes: Event Experience in the New Era