EXHIBITORLIVE News
3/25/2019


Our thanks to everyone who supported the 2nd Annual Women in Exhibitions Breakfast at EXHIBITORLIVE. It was a huge success! Attendance increased from 100 in 2018 to 150 in 2019.

Here's what our members are saying:

"I attend the Women in Exhibitions event each year at EXHIBITORLIVE and bring the women on my team for networking and education. At this event, we are able to connect with other women in our industry who have various roles and challenges within their organizations. The breakfast is professionally facilitated with a keynote speaker to allow for education at all levels." – Donna Shultz, President & CEO of Mirror Show Management

"Optima was proud to sponsor the WIE breakfast at EXHIBITORLIVE 2019! Looking around the venue that morning, I was proud to be sitting amongst the best and brightest women in the industry. I think we all felt a sense of camaraderie." – Gina Porcaro, Account Executive at Optima Graphics, Inc.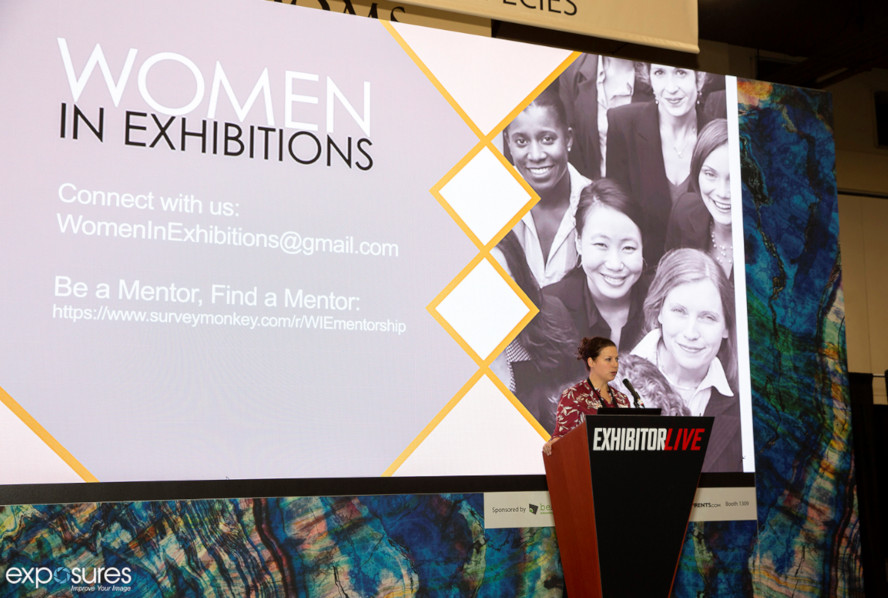 "The value that the 'Women's forum' brings at EXHIBITORLIVE is astounding. It is a great opportunity to network with other women in the industry with strong core values that boost other women up. Hearing the speakers year-to-year is a great inspiration and a big reason I brought my team of 7 women to the event this year. It is also a chance to see how women have changed the tradeshow industry. Year-to-year the group is growing, which means the industry is changing and that's exciting to see." – Lauren Wheeler, National Accounts Director at beMatrix USA

Connecting and learning from each other is the basis for Women In Exhibitions, founded in 2002. The incredible women in our group have proven to be such a valuable resource to each other, it has become critical to optimize our meeting time and location at EXHIBITORLIVE to bring more of us together. And how better to keep the connections growing and vital throughout the year than through a mentorship program?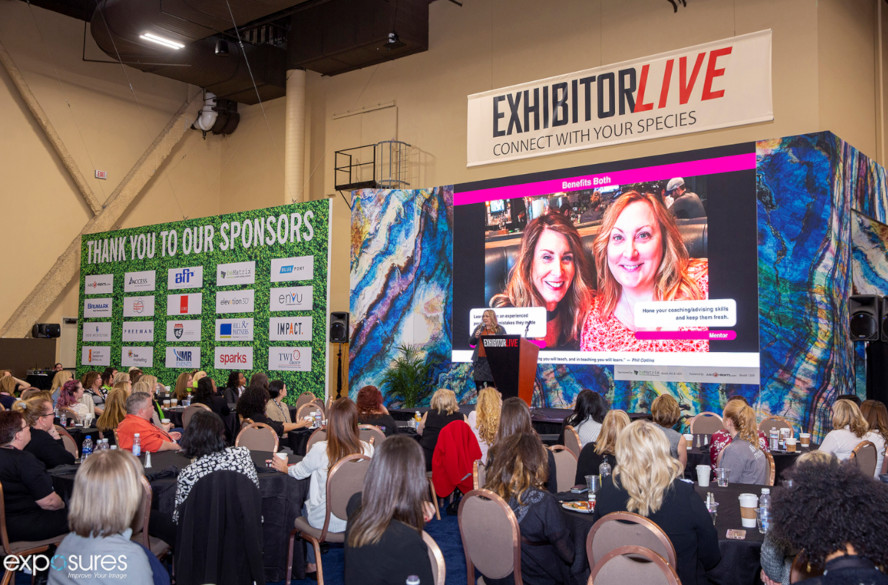 This year's speaker Sandy Jones-Kaminski pointed out: "Mentorship is what you make of it. Set expectations, set goals. Each of us can learn from each other." Sandy shared so much with us about mentorships, about networking and building a personal brand.

"I walked away being reminded of the importance of mentoring and being mentored. Each of us can mentor and share our knowledge and experience with someone less tenured. Being mentored doesn't stop, no matter what age or level we are in our career, we can always learn something from someone else, especially in this industry." – Gina Porcaro, Account Executive at Optima Graphics, Inc.

"I started my business 26 years ago after the President of the company I worked for told me I would be great at what I did, if I were a man. This simple statement fueled years of passion in starting and growing my own business where women play a key role. Women supporting women is the right thing to do." – Donna Shultz, President & CEO of Mirror Show Management

Are you a women in the Exhibition industry and you want to be a mentor or have a mentor? Start with this survey: https://www.surveymonkey.com/r/WIEmentorship

Both our Financial and In-kind 2019 Sponsors deserve so much credit for making the 2nd Annual Women In Exhibitions Breakfast possible. Special thanks to Freeman for adding their support to our cause as well:
Diamond sponsors: EXHIBITOR Media Group, Classic Exhibits Inc.
Platinum sponsors: Optima Graphics, Exhibit Concepts
Gold sponsors: Access TCA, Live Marketing, Highmark Tech, Pinnacle Exhibits, ProExhibits, Skyline-Holt, AFR Furniture Rental, Brumark, Freeman and Condit
Silver sponsors: Steelhead Productions, Exhibit Expressions
If you would like more information about Women In Exhibitions events and mentorship opportunities, please e-mail Katina Rigall Zipay at WomenInExhibitions@gmail.com.




Contact:


WomenInExhibitions@gmail.com



---