EXHIBITORLIVE News
7/25/2019


EXHIBITOR magazine announces it has renewed its partnership with AFR Furniture Rental to provide furniture for the EXHIBITORLIVE conference, to be held in the Mandalay Bay Convention Center in Las Vegas, March 29 - April 2, 2020.

AFR will once again furnish The Square and The Connection Zone, two high-traffic areas located adjacent to the Exhibit Hall, to provide a comfortable space where trade show and event marketing professionals can connect and engage their peers.

"We are excited to continue this partnership with EXHIBITOR," said Tricia Schmitt, Chief Branding Officer at AFR Furniture Rental. "It's great to see their show team using creativity to provide a space that invites connection and engagement between EXHIBITORLIVE attendees while also showcasing many of the stylish furnishings that AFR Furniture Rental brings to the exhibit and trade show industry."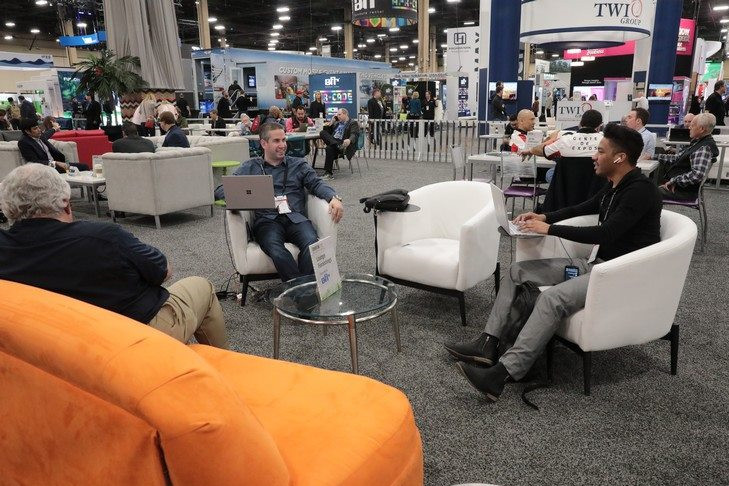 "Our thanks to Tricia and her team at AFR for helping to create such a great environment for EXHIBITORLIVE attendees and exhibitors," said Randy Acker, President & COO of Exhibitor Media Group. "This partnership will help us provide a comfortable place for attendees to get off their feet, recharge their mobile devices, and connect with others in the EXHIBITOR community."




Visit AFR Furniture Rental in the Exhibit Hall at EXHIBITORLIVE, March 30 - April 1, 2020, at the Mandalay Bay Convention Center in Las Vegas.

EXHIBITORLIVE is the most comprehensive educational event for trade show and event marketing professionals, featuring more than 150 educational sessions and workshops. This event is attended by 5,000 exhibit and event managers, and marketing and communications experts who are serious about improving their face-to-face marketing performance. The Exhibit Hall at EXHIBITORLIVE presents North America's largest exhibition of trade show and event suppliers. For more information, go to www.ExhibitorLive.com.


About AFR
AFR® Furniture Rental provides you with distinctive collections, quality products and a promise of service satisfaction. We are an industry-leading provider of stylish, quality furnishings and accessories for your next conference, meeting, tradeshow, or event.

Our unwavering commitment to excellence of service means that our team of professionals will work side by side with you to create innovative solutions that present your brand or event in it's best light. With our flexible and superior quality inventory of sleek furnishings and team approach to every project, we promise you satisfaction of service.

With major warehouse locations in major cities and regional operations throughout the nation, AFR can partner with our clients anywhere, any time. We provide delivery on demand; 24 hours a day, 7 days a week, 365 days a year. For more information go to www.afrtradeshow.com.

About Exhibitor Media Group
The leader in trade show and corporate event marketing education, Exhibitor Media Group publishes the award-winning EXHIBITOR magazine, a monthly publication featuring best practices in trade show marketing. EXHIBITOR's learning events include: EXHIBITORLIVE, the professional development conference for trade show and corporate event marketers; EXHIBITORFastTrak accelerated learning conferences; and EXHIBITOR eTrak, professional online learning. Exhibitor Media Group is also the founder and sponsor of CTSM (Certified Trade Show Marketer), the industry's only university-affiliated professional certification program. Learn more at www.ExhibitorOnline.com.

EXHIBITOR is a registered trademark, and EXHIBITORLIVE, EXHIBITORFastTrak, and EXHIBITOR eTrak, are trademarks of Exhibitor Publications, Inc. in the USA and other countries. All company and/or product names may be trade names, trademarks and/or registered trademarks of the respective owners with which they are associated.




Contact:


questions@exhibitormagazine.com



---