EXHIBITORLIVE News
10/2/2019


EXHIBITOR magazine announces a renewed partnership with Hill & Partners, who will serve as the exclusive sponsor of the First-Timers Meet-Up networking event at EXHIBITORLIVE, Best Practices in Trade Shows and Events, to be held in Las Vegas, March 29 - April 2, 2020.

The First Timers Meet-Up will be held on Monday, March 30, from 5:30pm - 6:30pm, Palm Foyer, Level Three. This free-to-attend networking event provides new EXHIBITORLIVE attendees with the opportunity to connect with others and to share their exhibiting experiences and ideas in a fun, relaxed setting.

"Sponsoring the First Timers Meet-Up is a natural step for us because it echoes our value of relationships," said Michael McMahon, President & CEO, Hill & Partners. "We're incredibly excited to bring like-minded industry peers together to connect and engage with one another again at next year's conference."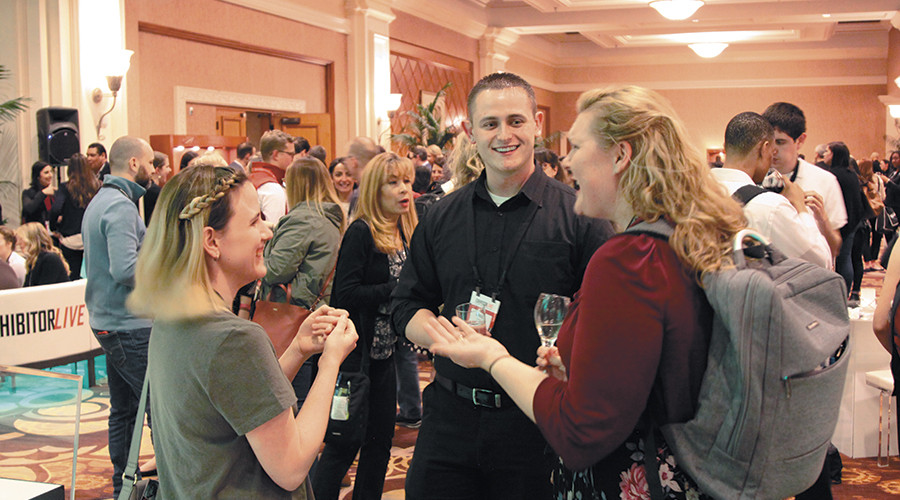 "We are very happy to work with Hill & Partners in this effort to welcome our new attendees and to make them feel at home," said Randy Acker, president & coo of Exhibitor Media Group. "The First Timers Meet-Up provides attendees with a great opportunity to make personal connections and to learn about everything that's available to them at the conference. I look forward to working with the branded environment specialists at Hill & Partners to bring this event to life."

The First-Timer icon on attendee badges will provide admittance to this event. All participants will also be entered into a drawing to win a $500 gift card.

EXHIBITORLIVE is the most comprehensive educational event for trade show and event marketing professionals, featuring more than 150 educational sessions and workshops. This event is attended by 5,000 exhibit and event managers, and marketing and communications experts who are serious about improving their face-to-face marketing performance. The Exhibit Hall at EXHIBITORLIVE presents North America's largest exhibition of trade show and event suppliers. For more information, go to www.ExhibitorLive.com.

Attendees are also encouraged to meet the Hill & Partners team in the EXHIBITORLIVE Exhibit Hall.


About Hill & Partners
Hill & Partners was founded in 1995, created as an alternative to the traditional transaction-centered exhibit house experience.They deliver high-level design, production, and account management services as a complete Branded Environment, anywhere in the world. Hill & Partners has been an Experiential Designers & Producers Association (EDPA) Certified company since 2016, a designation that recognizes exhibit organizations on the basis of business integrity, capabilities, and operational practices. For more info, call 617.471.7990, or visit www.hillpartners.com.

About Exhibitor Media Group
The leader in trade show and corporate event marketing education, Exhibitor Media Group publishes the award-winning EXHIBITOR magazine, a monthly publication featuring best practices in trade show marketing. EXHIBITOR's learning events include: EXHIBITORLIVE, the professional development conference for trade show and corporate event marketers; EXHIBITORFastTrak accelerated learning conferences; and EXHIBITOR eTrak, professional online learning. Exhibitor Media Group is also the founder and sponsor of CTSM (Certified Trade Show Marketer), the industry's only university-affiliated professional certification program. Learn more at www.ExhibitorOnline.com.

EXHIBITOR is a registered trademark, and EXHIBITORLIVE, EXHIBITORFastTrak, and EXHIBITOR eTrak, are trademarks of Exhibitor Publications, Inc. in the USA and other countries. All company and/or product names may be trade names, trademarks and/or registered trademarks of the respective owners with which they are associated.




Contact:


questions@exhibitormagazine.com



---