TUESDAY 3:45 PM - 5:15 PM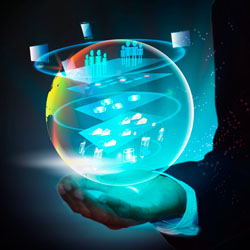 Track:
Global Exhibit Marketing
, Expanded Knowledge
T5013
Trends with Benefits: What the World is Talking About
Join us for an update on the latest trends in exhibit marketing. We'll view and discuss examples of tactics and tools that create buzz, increase attention, engage attendees and communicate your brand. Leave ready to invigorate your program. We'll:
• Investigate technological advancements
• Explore global developments
• Examine design trends
• Discuss contemporary culture and "Zeitgeist"
FACULTY:

Tom Frisby, vice president of creative design, Impact XM

Thomas Frisby is the leader of Impact XM's team of Creative Idea Shapers & Strategists. From ideation and brand immersion to integrated marketing and measurement, Thomas harnesses innovation to create meaningful connections. During his 25-year career, he's been called, "Change Agent", "Trend Setter" and "Rule Breaker". An award-winning visionary, Thomas has been a member of the EXHIBITOR faculty for almost a decade and has also presented and/or taught at the industry's largest events and associations.


Connect with Tom Frisby:



Additional sessions presented by Tom Frisby:

W3007C
Creative Thinking to Reinvigorate Your Program
T3007C
Creative Thinking to Reinvigorate Your Program
Brett Montplaisir, associate creative director, Impact XM

Brett Montplaisir is a designer on the Impact XM Creative Team. He is considered one of the up and coming talents by industry leaders because of his unique combination of engagement and design experience. He has worked with some of the industry's top agencies, gaining invaluable knowledge from multiple channels and international thought leaders. A Bemidji State University Graduate with a strong design and experiential background.


Connect with Brett Montplaisir: