Going into the 2017 Mobile World Congress, Intel Corp. wanted to stake out a leadership role in enabling the next generation of 5G wireless connectivity. "Our challenge was to create something bold, unexpected, and intelligent at a show dominated by technology," said Andy Sexton, creative director for 2LK Design Ltd., the lead agency behind Intel's 9,100-square-foot exhibit.
What 2LK devised was a riveting centerpiece dubbed the Wonderwall, a massive "intelligent" LED screen. The nearly 90-by-16-foot partition acted as a supercharged fusion of the popular pin art toy, whose assortment of pins slide in and out of a screen to create physical 3-D images, and Lite-Brites, whose colored pegs can be arranged into illuminated pictures.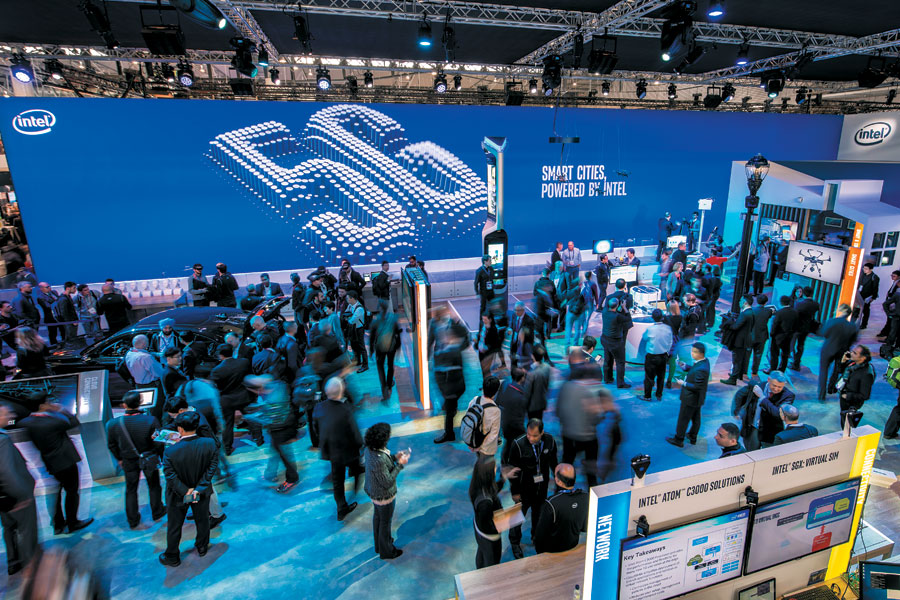 Screen Play
Powered by a PC and a Lidar camera, Intel Corp.'s 18-ton "Wonderwall" LED screen mimicked the popular pin art and Lite-Brite toys on a massive scale. Via motionsensitive technology, the Wonderwall used 18 million pixels on its 1,248-square-foot expanse to craft vibrant 3-D images inspired by the activities taking place in front of it.
Powered by a single PC and triggered by a Lidar camera, the same remote-sensing technology NASA uses to measure landscapes from orbit, the Wonderwall riffed on the activities occurring in its vicinity. Each half hour, a live presenter introduced four 5G-related demos taking place in front of the colossal structure. As he spoke, the Lidar camera read his movements and voice, triggering synchronized effects on the wall behind him.
Massive ripples of simulated 3-D pins mimed the presenter's actions, for example, while gargantuan waves of pins looped and spiraled over the wall in harmony with his voice's own wave-like ups and downs. Whether in-booth performers spoke about tricked-out smart homes or blew funky jazz on a saxophone, the Wonderwall played off of them with tsunami-sized abstract art. Lauding it as "a show-stopping experience," one Exhibit Design Awards judge said, "It created an indelible memory that embedded itself into attendees' minds."
E