PHOTOS: HEARST INC. (ELLE DECORATION CHINA)
Once a cultural backwater, Shenzhen, China, has swerved 180 degrees from a sweatshop center to a style setter. So for the 2017 Shenzhen Creative Week and International Furniture Exhibition, Hearst Inc.'s Elle Decoration China magazine and art-curation company My Studio capitalized on that revamped image by inviting three nascent designers to showcase their crafts in an exhibit called "Elevated Memories" that fused traditional designs with avant-garde flourishes.
"The exhibit had to show innovational aesthetics evolving from traditional crafts," said designer Oliver Hong-I Tsai. To accomplish that, the resulting 16-by-66-foot in-line exhibit's aluminum-framed exterior was covered in milky-white and cobalt-blue panels, whose colors were inspired by the off-white shade of preglazed ceramics and the vibrant hue of indigo-dyed fabric.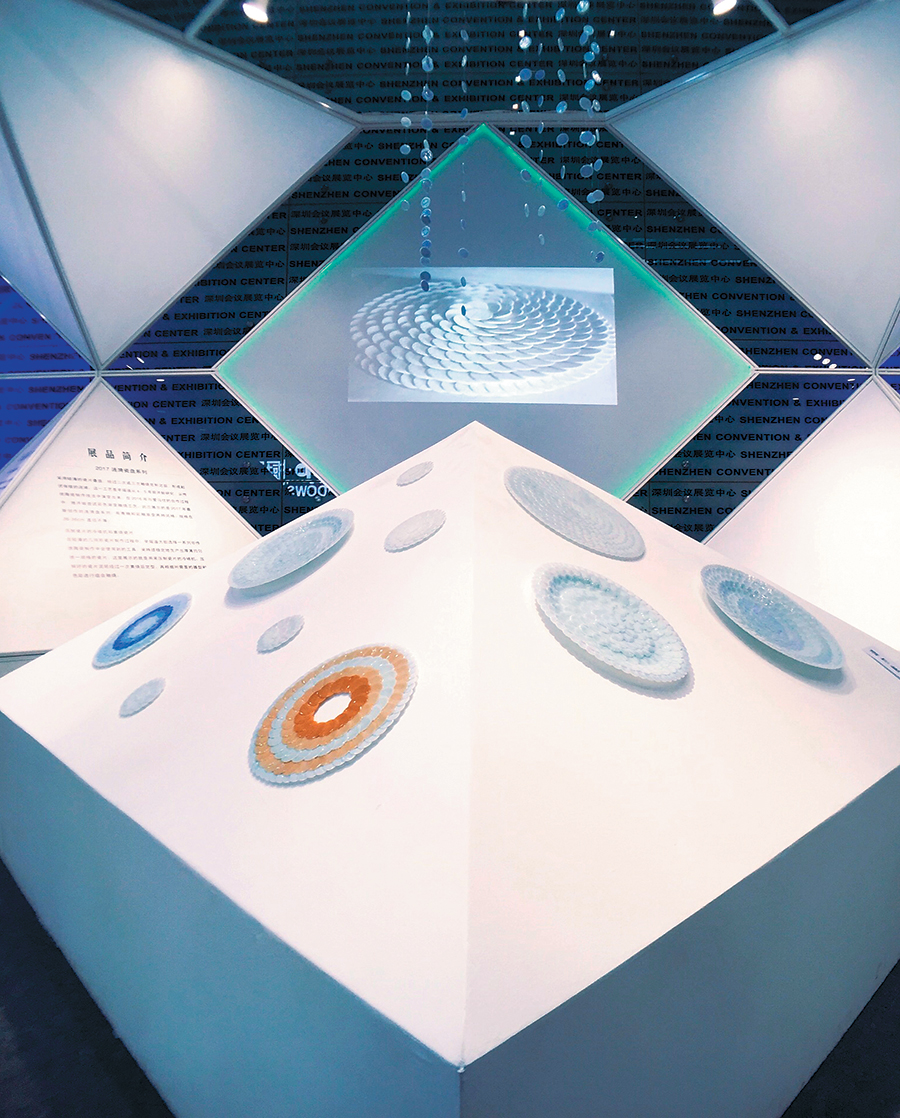 Fashion Show
Hearst Inc.'s Elle Decoration China magazine and the art curation company My Studio invited a trio of emerging designers to showcase their work in an aluminum-tube-framed exhibit that juxtaposed their menswear, fabrics, and ceramics with traditional colors and materials offset by abstract geometric shapes and avant-garde style.
Attendees entering the booth found three themed areas divided by wing-like equilateral entryways. The first segment was devoted to fabric and furniture designer Elaine Yan Ling Ng, known for merging dyed fabrics with traditional items such as folding screens, sofas, and tiles. In the second section, a machine that slices ceramics into 1-millimeter thin wafers was surrounded by several plates designed by Xin Yaoyao and constructed from those shavings. The final area used an antique loom as a contrasting focal point for Yin Ming's new-wave menswear.
According to one judge, "This stunning little in-line booth was all about killer ideas." In a few square feet, "Elevated Memories" took guests on a centuries-long journey from crafts as timeless as a Ming vase to designs as cutting edge as a Shanghai skyscraper. E