From the fantastical silhouette of a Comme des Garcons dress to the psychedelic artworks of Takashi Murakami, Japanese design is often highly conceptual and requires no small amount of scrutiny to understand its intent. Take this exhibit for Lumine Co. Ltd, a chain of Japanese shopping centers. Looking like something Alice might encounter after falling down the rabbit hole, the space won over Exhibit Design Awards judges with its sophistication and ability to elicit attendees' curiosity.
Eschewing traditional exhibitry altogether, designer Kanami Shirogane of Hakuten Corp. created a 15-foot-tall, 12-foot-square tower that stood in the center of the 20-by-20-foot space and featured an assortment of drawers and cupboards, some functional and some decorative. The design's conceit, according to Shirogane, was that Lumine provides the kinds of items that fill shoppers' closets and wardrobes.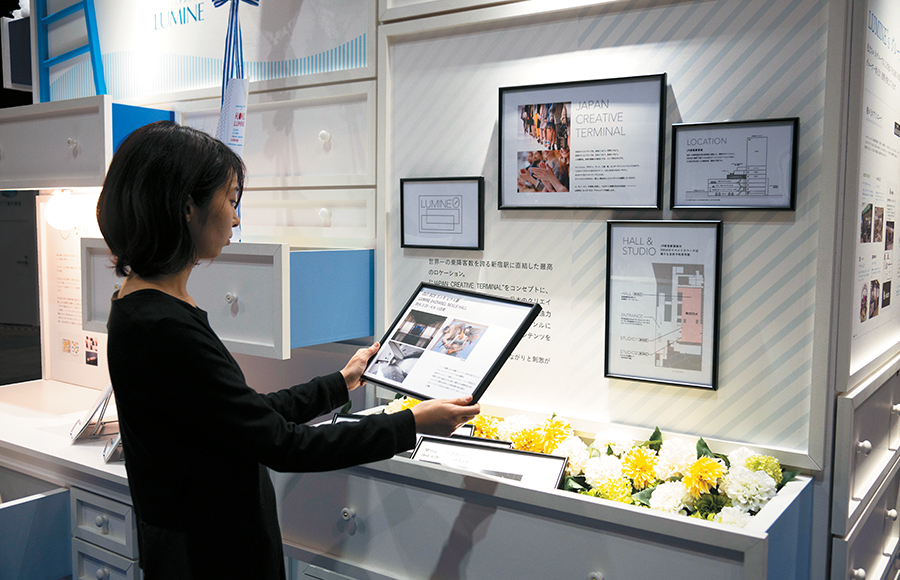 Highly Conceptual
The sole structure in Hakuten Corp.'s exhibit for Lumine Co. Ltd.'s chain of shopping centers was a 15-foot-tall tower covered in an assortment of drawers and cupboards. Inside some of the drawers, attendees found objects that called attention to Lumine's experiential attributes, including its public spaces, fashion shows, and restaurants. Higher up, more esoteric accessories, such as paper airplanes and a hot-air balloon, referenced the elevation one feels while engaging in a little retail therapy.
Instead of clothing, however, the drawers contained objects highlighting the experiences Lumine's shopping meccas provide, such as their restaurants, fashion events, and public spaces. For example, one drawer stored photos of fashion shows and exhibitions hosted at Lumine properties, while another displayed graphics of the many toppings available at a high-end pizza parlor. "Everything about this concept begs attendee exploration," said one judge.
Positioned above a smattering of bulletin-board-like surfaces plastered with photos and graphics were more esoteric elements, including paper airplanes, a miniature hot-air balloon, and a drawer overflowing with cloud-like puffs of cotton. Shirogane added these embellishments as a reference to the elevation one feels when embracing change – perhaps by purchasing a new three-sleeved Comme coat. After all, good exhibit design, like fashion, can always benefit from a little flight of fancy. E