For a 1913 art exhibition, Marcel Duchamp affixed a bike wheel to a stool, creating what may have been the world's first work of kinetic art. More than 100 years later, experiential-marketing company Impact XM followed suit with a kinetic element inside its 20-by-30-foot booth at EXHIBITORLIVE 2017. "We asked ourselves, 'How do we physically move audiences?'" said Wayne Netzel, Impact XM's senior creative director. "We bounced from that conceptual question to the literal idea of looking at places that deal with large crowds, such as airports, and the way they use moving walkways to drive people."
Inspired by that common fixture of air travel, Impact XM came up with its exhibit's uncommon cornerstone: an endlessly looping conveyor belt. Measuring 12 feet in length and placed beneath the booth's overhead element, the conveyer belt successfully captivated attendees with its ceaseless rotation. Once they drew closer, guests could inspect the 500 Lego figures painstakingly assembled and individually affixed to the belt.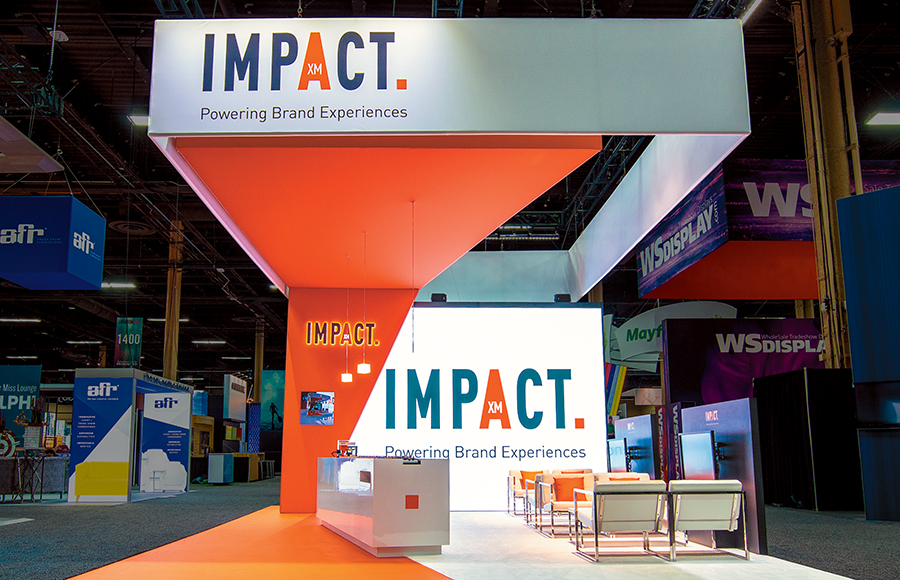 Some Assembly Required
Impact XM staffers helped guests build their own Lego characters from a "Lego Buffet Line" of five sunken bins on each side of a kinetic conveyor belt. After choosing from a plethora of Lego heads, legs, torsos, hairpieces, and other accessories, participants placed their completed creations in a 20-by-20-inch replica of Impact XM's booth, photographed the tiny display, and posted the pictures on social media.
Accompanied by staffers, visitors made their way down the length of the belt, where they were urged to build their own figurines from a "Lego Buffet Line" of five recessed bins on each side of the table. As visitors cobbled Lego heads, legs, torsos, hairpieces, and accessories (e.g., spiders, dogs, coffee cups) into whimsical creations, staffers explained how each part expressly symbolized some aspect of themselves or their exhibit program's needs.
Heads, for example, represented strategy, while torsos epitomized passion. When finished, guests placed their effigies in a 20-by-20-inch miniature Lego recreation of the booth and snapped a selfie of sorts to share on social media. According to one Exhibit Design Awards judge, "Many exhibitors inform or educate attendees, but this one engaged them in an activity they most certainly remembered long after the show." E