Stikwood, a manufacturer of peel-and-stick reclaimed wood paneling, questioned how best to show off its easy-to-adhere product at the 2017 Kitchen and Bath Industry Show. The answer was what Exhibit Design Awards judges called obvious but ingenious: cover its entire booth with the sticky-backed salvaged slats.
The beauty of this award-winning design was more than Stikwood-deep, however. The company intended to convey its heart and soul, which happens to be equal parts manufacturing and woodworking – a balance of factory and forest. And so, using early era Ford facilities and pristine California forests as inspiration, ProExhibits dreamed up a factory-like workshop situated in a serene, woodsy setting. "Everything about the design had to feel authentic because that's what Stikwood is – an authentic, sustainable, reclaimed wood product," said Paul Miller, vice president of marketing at ProExhibits.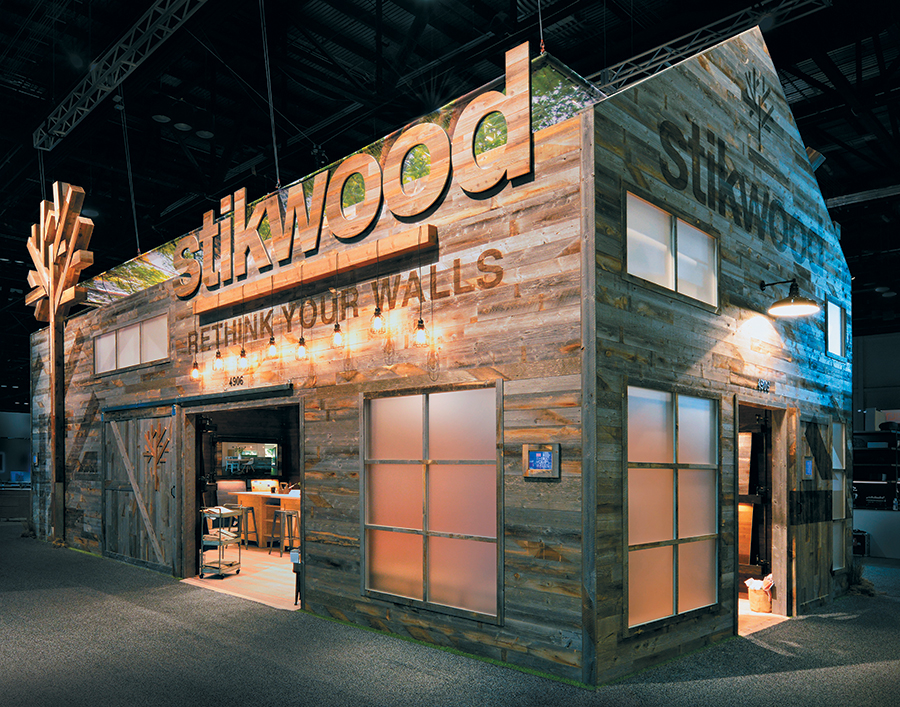 Panel Discussion
The exterior of Stikwood's booth was completely clad in the company's most popular product: panels of reclaimed weathered pine. Using the wood as the exhibit's primary material enabled staffers to easily segue from small talk to substantive conversations with attendees.
Each of the exhibit's walls featured frosted acrylic windows, which generated intrigue as passersby caught just a glimpse of what was happening inside. Tufts of real grass sprouted at the edges of the booth, and a 22-foot-tall version of the Stikwood tree logo, clad in reclaimed sierra silver wood paneling, commanded attention along with a mix of vintage Edison bulbs and barn lights.
Upon entry, attendees tipped their heads back as if in the Sistine Chapel to gawk at a backlit 36-by-18-foot pillowcase canvas ceiling printed with towering trees. The space below the leafy canopy fused the quaint ambiance of a woodshop with two giant hardwood tables where attendees could talk shop with staffers.
Given the creative way that Stikwood blended form and function – while simultaneously offering eye-catching design that told a brand-appropriate story – it's no wonder judges deemed the exhibit "spot on."
E