Variety Media LLC's chief marketing officer explains how the 114-year-old media company plans to increase its investment in face-to-face marketing over the next five years, and how trade shows and events must evolve in order to remain relevant.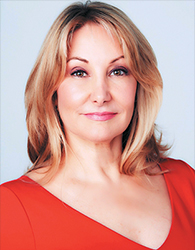 As chief marketing officer at Variety Media LLC, Dea Lawrence is responsible for pushing the company's global branding and communications strategy. She took on the CMO role at Variety in 2015, having previously served as vice president of digital sales and marketing for Variety from 2001 to 2008. While in this role, Lawrence was an integral part of creating, developing, and growing Variety's business, as well as building and implementing the strategy for all online advertising sales. In addition to her work at Variety, Lawrence has held a series of executive sales and marketing positions in advertising, technology, and media, including vice president for the Western Region at TubeMogul and vice president for PointRoll/Gannett, where she executed numerous marketing campaigns for Fortune 500 brands.
EXHIBITOR Magazine:
How does your organization incorporate trade shows and live events into its overall marketing mix?
Dea Lawrence:
The Variety Live media business is an important part of our strategy in that it's divided into two parts: the invite-only events business with celebrities or high-profile executives, and thought leadership summits throughout the year based on inclusion, entertainment marketing, technology, and other topics. These events get our name out there and help build audience and readership because of the news we're breaking and all the photos we're generating. Additionally, the amount of media exposure that comes out of these events is tremendous, so it's a great marketing vehicle. Having said that, we never do an event or summit just for branding purposes. Each one has to drive revenue, so we always attempt to reach the largest audience possible while still keeping an eye on our total investment.
EM:
How are trade shows and events perceived within your organization, particularly as they compare to other marketing channels?
DL:
We don't think about events as an isolated channel. We're always thinking across platforms. As an example, let's talk about the Power of Women event we do that profiles and honors five women – A-list celebrities or people of renowned ability. We identify these women, feature them on the cover of the magazine, and publish content in the magazine, on Variety.com, and across our social-media channels. The live event itself is then recorded and pushed out to the press, and we send out photography from the red carpet. In other words, the live event is just one part of the bigger picture rather than a standalone activation.
EM:
Do you expect your organization to increase or decrease its investment in trade shows in the next three to five years?
DL:
It's definitely going to increase, without a doubt. In fact, it could grow by as much as 50 percent in the next five years. Because we're a publisher, we're in a unique position to be a media sponsor of trade shows and events, and we already have more than 250 partnerships with trade show and event organizers.
EM:
Do you see any shift in the balance or prioritization of B2B vs. B2C events?
DL:
We don't do many consumer events, and I think that's one reason why our business thrives while many of our competitors continue to struggle. While there is interest and crossover for entertainment-focused news in the consumer world, and we're putting a stake in the ground to be the top publication in entertainment news, we focus our events on B2B audiences who are more interested in attending learning events. We don't host parties for readers and consumers – even though consumers have a huge appetite for the content we're creating.
EM:
Absent hard metrics or sales leads, how can trade show and exhibit marketers prove the value of their efforts?
DL:
Trade shows and events aren't just about branding anymore. They have to be about driving new business, and it's important to quantify how your programs are helping to drive it. Part of that is documenting the attendance of key influencers and people who are making deals and greenlighting projects. We measure results in terms of media as well. We can show the number of social posts and press articles being generated as a result of the event. But each event is different and so is the type of ROI you should be tracking.
EM:
What advice do you have for marketers who exhibit at the same trade shows year after year, or those who feel caught in a monotonous cycle of annual events?
DL:
You have to be fluid in this business and keep adjusting the formula year after year until you find the right fit. If you keep looking at what you've done, analyze it with a critical eye, consider what worked and what didn't, and track what your competitors are doing, you can iterate your approach to be much more successful over time. On the flip side, sometimes events that were successful in the past may not continue to be successful over a long term horizon. So be willing to mix things up, and know when to let go of legacy projects.
EM:
How do live events need to evolve in order to remain relevant?
DL:
People are no longer interested in just attending an event and listening to panel after panel. They're still very interested in going to live events, but there has to be more interaction. So we're always trying to create interactive experiences and asking ourselves what we can do to get people communicating. Attendees have to walk away with some type of ROI after an event, so something has to happen that increases their network or business. If it doesn't, they won't be back next year.
E