The chief marketing officer for Consumers Credit Union explains her communication-centric marketing philosophy and recommends one book that she believes should be on every leader's bookshelf.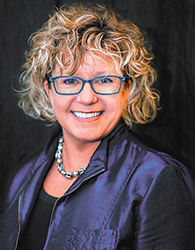 Lynne Jarman-Johnson is the chief marketing officer for Consumers Credit Union, which has more than $1 billion in assets and has been ranked as among America's best places to work and as one of the top 10 financial institutions for social engagements in the industry. Jarman-Johnson excels in strategic goal setting, as well as member and customer success. She is recognized for her creation of the "Wedding Cake" philosophy, which guides organizations to communication success. Jarman-Johnson has been named to Forbes' Top 50 Social Influencers, Brand Quarterly's 50 Over 50 Social Influencers, and CMO's Top 20 Social Networkers.Her favorite hashtag is #SimplyBeKind, which brings service to a new level in organizations and work environments.
EXHIBITOR Magazine:
How important are live experiences and experiential marketing activations to your organization?
Lynne Jarman-Johnson:
On a scale of one to 10, I'd rate the importance of live experiences a perfect 10. Digital channels such as social media and e-marketing are capable of fostering relationships with clients and prospects, but only when they're well executed and focused. Meanwhile, the ability to establish trust and cultivate a relationship in a face-to-face setting is exponentially greater.
EM:
What is it that makes face-to-face marketing uniquely valuable, especially given the popularity of those digital channels?
LJJ:
We need to serve up digital delights while also focusing on in-depth communication that reaches our members and communities. Our focus is to educate clients and prospects on how we can ease the pain of banking and make it both easier and seamless. The reality is that people learn differently, so we need to engage with our audiences in every way possible, which includes connecting with them face to face. Granted, technology now allows us to connect with clients face to face without actually being in the same room with them. But people want to be seen and paid attention to. And in my experience, live events check those boxes better than any other channel. We find them to be among the most successful communication methods – especially for those with more complex needs. Having said that, it's important to use multiple channels and not solely rely on any one in particular.
EM:
How do trade shows need to evolve in order to remain relevant?
LJJ:
The value of trade shows all comes down to content, because content is what drives attendance. Additionally, the speed at which artificial intelligence and the internet of things is changing entire industries is mind blowing. All of that transition and evolution makes it even more important for brands to provide experts and thought leaders in up-close and personal settings such as trade shows. Making that kind of expertise readily available is crucial.
EM:
What is the most common mistake you see brands making when it comes to live events?
LJJ:
Technology-related issues can easily detract from your message. When it comes to exhibits and events, simple errors can have significant impacts on attendees' perception of your brand. For example, if your target audience watches your speaker falter due to tech issues, they may smile and pretend it's no big deal. But on the inside, they're thinking, "If they can't even get this right, what would it be like working with them on a daily basis?"
EM:
When it comes to exhibit and event marketing, do you have a philosophy that other marketing professionals could apply to their own programs?
LJJ:
My marketing philosophy is "If the team doesn't know, the campaign doesn't go." You cannot over communicate, and your job as a leader is to ensure that you include those who need to be included. Before, during, and after all marketing campaigns, stop and ask yourself who needs to know what's going on and how what you're doing might impact others. And remember, internal communication should look and feel like external communication.
EM:
What advice would you give to exhibit and event professionals looking to climb the corporate ladder and perhaps become a CMO someday?
LJJ:
Learn, learn, research, and learn. And continue to read. One book to start with is Lead from the Heart by Mark C. Crowley. The book explains the importance of positivity and compassion. Reading the book can help you focus on how to lead with passion, which is an essential skill for anyone hoping to become a CMO. Lastly, somebody once told me that how you make someone feel is your trademark. When you think about both personal and professional interactions in that context, it really changes how you engage with people.
E