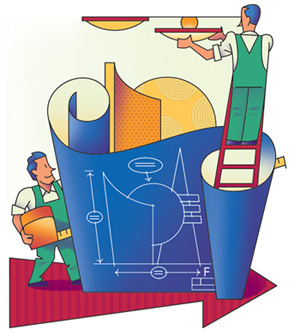 ILLUSTRATION: MARK FISHER
Q.
We use several fabric graphics in our exhibits and at our events, but I'm never quite sure how to clean and care for my materials. Can you offer a basic fabric-cleaning guide?
A.
Fabric provides numerous benefits. It's lightweight, easy to assemble, and compact for storage. However, while traditional smooth, hard surfaces rarely need more than a wet-sponge wipe down, fabric can require more thought and attention. Nevertheless, many fabrics can be spot cleaned on site, most stains can be removed if they're treated promptly, and some materials are even machine washable.
The key to effective fabric cleaning is to have the proper information and the necessary tools at hand. Granted, it's always a good idea to contact your fabric supplier or the product manufacturer for specific care or handling requirements. But here are some general guidelines for immediate cleaning and long-term care.
Spot Cleaning Polyester
Many warp-knit textiles used for tensioned fabric are manufactured from polyester – a durable, synthetic fiber. Based on the amount of dirt and/or type of stain, there are several spot-cleaning techniques available.
For minimal dirt, try a Mr. Clean Magic Eraser. You can remove surface dirt by gently brushing the fabric. Keep the eraser dry, and wipe as lightly as possible. Similarly, a product such as 303 Multi-Surface Cleaner usually does the trick for various minor stains.
Saturate the stain with the solution and then agitate it with a wet cloth. Finally, blot the excess cleanser as needed, and if necessary, rinse the affected area with distilled water. If you're dealing with an oil or grease stain, your best bet is a simple dish detergent such as Dawn. Apply a small amount to a clean, damp, white cloth and gently blot or rub the affected area. To prevent the stain from bleeding outward, start from the outside of the blemish and work inward as you clean.
Shout Wipe & Go wipes are best on food and beverage stains. Just as when using Dawn, gently blot or rub the area, starting from the outside of the stain and working inward. If you have a more serious stain, such as wine, use a Tide to Go Stain Remover Pen. Push down the tip of the cleaning pen to release the solution and then gently rub the tip back and forth over the stain.
Cleaning Specialty Fabrics
Polyester fabrics are available in a range of construction methods. Not surprisingly, then, each has its own nuances when it comes to cleaning.
For brushed or napped polyester fabrics, which are often used in backlit applications, spot-cleaning techniques are not recommended, as they disturb the light-diffusing fibers. However, these materials can often be machine washed and hung to dry.
Polyester mesh fabrics are widely used throughout exhibits for banners, silicone-edge graphics, pillowcase panels, 3-D constructions, etc. They're also often used for ceiling applications so water from overhead sprinklers can penetrate the fabric in the event of a fire. Spot cleaning is generally suggested for delicate mesh fabrics, but you may be able to machine wash more durable styles. Check precise recommendations with the manufacturer.
Stretch polyester fabrics that contain or comprise spandex are often used for tensioned-fabric panels and pillowcase covers. These materials can usually be spot cleaned, but carefully check manufacturer recommendations before machine washing.
Coated fabrics, which are becoming popular for applications such as backlit graphics, can also be sensitive to cleaning. Read the handling and care directions that come with your products. If these aren't available, call your supplier with any supporting details about the fabric in question.
Machine Washing and Storage
Stick to the basics when it comes to machine washing. Use cold water and liquid Tide detergent. Fabrics should always be line dried, or if possible, install the fabric on its frame for drying. Unless specifically permitted by your fabric's manufacturer, never machine dry exhibit textiles.
When it's time to store your fabrics, make sure they are clean and dry before packing them away. To prevent damage and creases, loosely fold your graphics with the face or "front" side inward. If your fabric must be rolled instead of folded, face the fabric inward and roll it onto a tube before covering the entire assembly in plastic. Whenever possible, store fabrics in their original shipping containers to provide sufficient protection.
Finally, the best way to eliminate a stain is to prevent it in the first place. So when handling fabrics, make sure your hands are clean and dry or wear a pair of clean gloves. The latter prevents you from transferring skin oils to the fabric, which may attract and retain dirt and stains. Also, when handling large fabrics, use a clean drop cloth under the material to prevent it from contacting the floor.
Fabric cleaning and care are certainly far from rocket science. But improper handling can ruin a perfectly good graphic and not only mar your exhibit's presence but also take a bite out of your budget. These handling practices and cleaning techniques should arm you with the information you need to keep your fabric graphics looking their best.
— Elissa Decker, senior manager of materials, Moss Inc., Elk Grove Village, IL